Keck Medicine of USC
Keck Medicine of USC is one of only two university-based medical systems in the Los Angeles area. Its internationally renowned physicians and scientists provide world-class patient care at Keck Hospital of USC, USC Norris Cancer Hospital, USC Verdugo Hills Hospital and more than 80 outpatient clinics in Los Angeles, Orange, Kern, Tulare and Ventura counties.
Keck Medical Center was ranked No. 16 on U.S. News & World Report's 2019-20 Best Hospital Honor Roll and among the top 3 hospitals in Los Angeles and top 5 in California. The hospital also ranked in the top 4 in urology (tie); top 10 in geriatrics; top 15 in ophthalmology, cardiology & heart surgery, gastroenterology & GI surgery and nephrology; top 20 in neurology & neurosurgery; top 25 in cancer; and top 35 in pulmonology & lung surgery.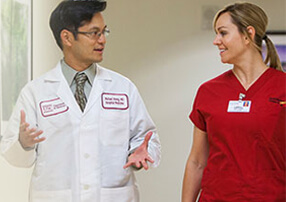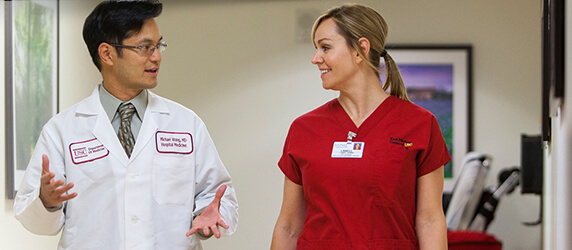 Clinical Director - Women and Family Center - Full Time 8 Hour Days (Exempt)
Apply
Keck Medicine of USC
Hospital
Glendale, California
Directly responsible to the VP for Nursing/Patient Services for the administration of the Perinatal Units.  Work in conjunction with the Medical Directors for management of patient care.  He/she must be proficient in perinatal procedures and skills.  This nurse is responsible for the professional activities and total nursing care delivered within the department, as well as the management of personnel during the entire 24-hour period, seven (7) days a week.
Minimum Education: Eligibility, as defined the California Board of Nursing, to sit for the Registered Nurse licensing examination. BSN preferred Minimum Experience/Knowledge: One (1) year current experience as a Clinical Director of Perinatal Unit (two years preferred), or Three (3) years current experience as a Charge Nurse in the Perinatal Unit. Required License/Certification: Must have completed and passed: Basic Arrhythmia class and Critical Care Course; or 1 year critical care experience OTHER REQUIREMENTS PER AREA/UNIT: Current Advanced Cardiac Life Support (ACLS) card Current Basic Cardiac Life Support (BCLS) card from American Heart Association • Current Advanced Fetal Monitoring Certification. • Current CPR certification. • Current Neonatal Resuscitation • Current California Registered Nurse License. BLS, ACLS, PALS must be AHA certified. As part of Keck Medicine of USC, USC Verdugo Hills Hospital is the only community hospital in the Foothills area of Los Angeles backed by an academic medical center. With its 40-year legacy of personalized care from expert physicians, experience nurses and a dedicated staff the community has come to know and trust, USC–VHH brings patients the latest medical advancements and 24/7 emergency services. Join this world-class team providing highly-specialized care, up-to-the-minute research and innovative clinical trials. Salary Range: $158,000 to $280,000
REQ20120938 Posted Date: 12/27/2022
Apply