Keck Medicine of USC
Keck Medicine of USC is one of only two university-based medical systems in the Los Angeles area. Its internationally renowned physicians and scientists provide world-class patient care at Keck Hospital of USC, USC Norris Cancer Hospital, USC Verdugo Hills Hospital and more than 80 outpatient clinics in Los Angeles, Orange, Kern, Tulare and Ventura counties.
Keck Medical Center was ranked No. 16 on U.S. News & World Report's 2019-20 Best Hospital Honor Roll and among the top 3 hospitals in Los Angeles and top 5 in California. The hospital also ranked in the top 4 in urology (tie); top 10 in geriatrics; top 15 in ophthalmology, cardiology & heart surgery, gastroenterology & GI surgery and nephrology; top 20 in neurology & neurosurgery; top 25 in cancer; and top 35 in pulmonology & lung surgery.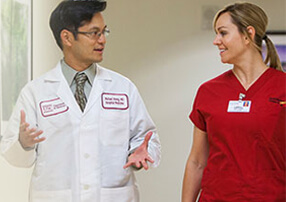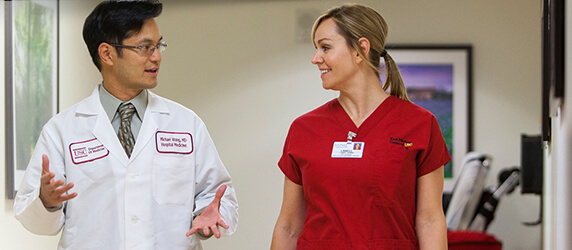 Nurse Practitioner - Las Vegas Culinary Healthcare Center - Full Time 9 Hour Days
Apply
Keck Medicine of USC
Hospital
Las Vegas, Nevada
Minimum Education:

Graduated from a Masters of Nursing Program as a Nurse Practitioner

required.     

Minimum Experience/Knowledge:

Five years clinical nursing experience.
Combined education/experience as substitute for minimum experience.
Strong critical and strategic thinking, analytical and planning skills.
Organization/time management skills.
Excellent communication skills.

Required License/Certification:

Required:

Valid Nevada State Board of Nursing License as a Registered Nurse (RN)
Valid Nevada State Board of Nursing License as Nurse Practitioner (NP) with certification as an Advanced Practitioner of Nursing
National Board Certification in Nurse Practitioner area of specialty: Must have one of the following NP specialized certifications: Acute Care (ACNP), Adult Medicine (ANP), Family Medicine (FNP) or Gerontology (AGNP) for primary and secondary care.
BLS Certification – Healthcare Provider from American Heart Association.
Unrestricted DEA Certificate with a Nevada address
Valid Nevada Board of Pharmacy certificate
If less than 2 years or 2,000 hours of clinical experience, Schedule II controlled substances may not be prescribed without a protocol approved by a collaborating physician
Under general supervision and in accordance with standardized procedures, incumbent performs physical examinations and treats common episodic and chronic health care problems in the clinic, counsels patients and families, monitors patient progress, assists with medical research projects. The Nurse Practitioner takes a leading role in activities such as managing the clinical aspects of clinic, patient rounding and care, nursing performance improvement, job performance/competency evaluations, staffing, scheduling and working with the directors, employees, and preceptors in the orientation and training of new employees. Executes leadership in the following areas: Direct/Indirect Patient Care, Support of Systems, Research, Education, and Professional Leadership. Works in collaboration with other health care team members, consulting and referring as appropriate, but retains responsibility for ongoing clinical management of the patient. Must work with any and every physician in the Clinic. Other duties as assigned.
REQ20095310 Posted Date: 10/04/2021
Apply