Faculty
"The University of Southern California is committed to excellence in teaching through strategies that foster the knowledge, skills, relationships, and values necessary for students to make real contributions in a rapidly changing world. USC is an equitable and diverse research university, and we recognize the many ways inclusivity strengthens our campus community. Our superb faculty have the exceptional responsibilities of creating new knowledge and instructing and guiding our passionate, hardworking student body" –Elizabeth Graddy, Executive Vice Provost for Academic Affairs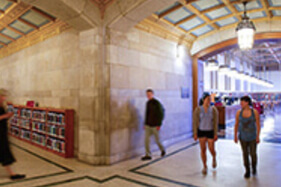 Adjunct Lecturer of Communication-Public Speaking
Apply
Annenberg School for Communication and Journalism
Faculty
Los Angeles, California
The Annenberg School for Communication and Journalism, University of Southern California is seeking two Adjunct Lecturers to supplement full-time faculty teaching for two sections of COMM-204, Public Speaking during the Fall 2022 semester. The successful candidate will have knowledge and experience such that he or she can teach one undergraduate course in the areas of principles and practices of effective oral communication, analysis of the speaking-listening process, selection and organization of speech materials and use of new presentation technologies. 

Applicants
In order to be considered for this position, all candidates must apply via the USC Careers Services website. Submission materials should include a cover letter, curriculum vitae and contact information for three recommendations. The cover letter should be addressed to School of Communication Faculty Search Committee, attention Billie Shotlow, Annenberg School of Communication, University of Southern California, 3502 Watt Way, Suite 305, Los Angeles, CA 90089-0281. Applicants may direct questions to Billie Shotlow at shotlow@usc.edu or (213-821-2718). Materials submitted by regular mail will not be accepted.
Minimum Education: Master's Degree in Communication or a related field.
Minimum Experience: Graduate teaching experience.
Preferred Education: PhD in Communication or a related field.
USC reserves the "Adjunct" appointment for faculty teaching less than full-time at USC, who are employed full-time in a primary profession or career elsewhere. Adjunct faculty typically teach only one course per year, but in exceptional cases, may teach one course per semester, if approved by the dean.
USC is an equal opportunity, affirmative action employer, proudly pluralistic and firmly committed to providing equal opportunity for outstanding persons of every race, gender, creed and background. The University particularly encourages women, members of under presented groups, veterans and individuals with disabilities to apply. USC will make reasonable accommodations for qualified individuals with known disabilities unless doing so would result in undue hardship. Further information is available by contacting uschr@usc.edu.
REQ20115774 Posted Date: 04/24/2022
Apply