Let's change the world together!
USC is a leading private research university located in Los Angeles – a global center for arts, technology and international business. As one of the city's largest private employers, responsible for more than $8 billion annually in economic activity in the region, we offer the opportunity to work in a dynamic and diverse environment, in careers that span a broad spectrum of talents and skills across a variety of academic schools and units. As a USC employee, you will enjoy excellent benefits and perks, and you will be a member of the Trojan Family - the faculty, staff, students and alumni who make USC a great place to work. Think you've got what it takes to join us? We invite you to search our open positions and apply!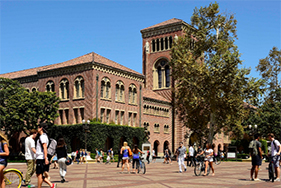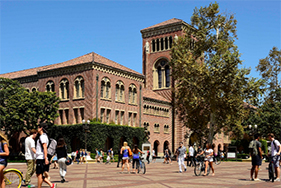 Administrative Operations Coordinator
Apply
Dornsife College of Letters, Arts and Sciences
Los Angeles, California
The University of Southern California (USC), founded in 1880, is located in the heart of downtown L.A. and is the largest private employer in the City of Los Angeles. As an employee of USC, you will be a part of a world-class research university and a member of the "Trojan Family," which is comprised of the faculty, students and staff that make the university a great place to work.  
The USC Dana and David Dornsife College of Letters, Arts and Sciences is seeking an Administrative Operations Coordinator with the Huntington-USC Institute on California and the West ("ICW") which is housed in the history department. The largest and oldest of the USC schools, USC Dornsife functions as the academic core of the university, offering courses and advancing knowledge across the humanities, social sciences and natural sciences.
Founded in 2004, ICW is a collaborative teaching, research, and outreach initiative focused on the history and culture of the American West. Through ICW, the academic mission of USC Dornsife College is effectively aligned with the research and educational mission of The Huntington Library. We value, and insist upon, utilizing history to give perspective on contemporary issues. We see history as a problem-solving tool on its own and a mechanism by which to provide context, background, and additional insight. We seek to engage a wide range of scholars, teachers, and students, as well as various broadly conceived publics. We welcome those who are personally invested in this history, and we have a special interest in reaching and collaborating with members of traditionally underrepresented groups when it comes to scholarly interaction and communication with the public. ICW's current research and outreach projects include the West on Fire, the Chinatown History Project, Third LA, and the Aerospace History Project. Smaller, on-going initiatives include webinars, workshops, lectures, working groups, and publishing efforts. We offer in-person and web-based programming for audiences from high school students in the Los Angeles Service Academy to scholars to broader community members across the West and beyond.
The team member filling this position will be responsible for day-to-day administrative oversight of all ICW programs and will be a key member of the ICW team.
Duties may include but are not limited to:
Internal processing of honoraria, stipends, and other payments made to our collaborators, guests, and research partners.
Oversight of website and web-based programming is critical to ICW's outreach efforts and many projects.
Maintenance of ICW archival files is an important feature of this position. Interaction with USC, The Huntington Library, and other partner institutions and personnel, as well as public engagement, is also part of the expectations for this position and person.
Maintenance of ICW files -- physically and electronically -- will be expected in this role.
Design capability, pertaining to outreach and communication of ICW projects, is expected.
Outreach communications efforts -- notifications, listserv maintenance, flyers, announcements, etc.
The position will periodically involve work outside M-F 9am-5pm, including what may amount to one Saturday a month during the academic year.
Hourly range: The hourly rate range for this position is $25.48 - $29.41. When extending an offer of employment, the University of Southern California considers factors such as (but not limited to) the scope and responsibilities of the position, the candidate's work experience, education/training, key skills, internal peer equity, federal, state and local laws, contractual stipulations, grant funding, as well as external market and organizational considerations.
Preferred Qualifications:
Bachelor's degree. Computer, website management, and database skills. Design capabilities. Organizational efficiency and ability to maintain ICW priorities regarding timing, deadlines, and follow through. Public engagement skills, in-person, verbal, written, and virtual. Ability to interact in a small team environment is critical.
Performs other related duties as assigned or requested. The university reserves the right to add or change duties at any time.
Required Documents and Additional Information:
Resume and cover letter required (may be uploaded as one file). Please do not submit your application without these documents.
Job openings are posted for a minimum of (5) five business days. This job may be removed from posting boards and filled any time after the minimum posting period has ended, so please apply on the same business day if interested.
USC has excellent benefits, including health benefits for staff and their family with access to the renowned university medical network; eligibility for retirement plans with employer contributions after six months of employment; tuition benefits for staff and their family; free Professional Development classes; central Los Angeles location with easy access to commuter trains, buses and free tram pick up services; discounts to sporting and other campus events.
The University of Southern California is an Equal Opportunity Employer that Values Diversity.
Minimum Education: Bachelor's degree, Combined experience/education as substitute for minimum education Minimum Experience: 3 years Minimum Field of Expertise: Secretarial or specialized clerical and administrative experience
REQ20137754 Posted Date: 08/10/2023
Apply