Information Technology Services
At Information Technology Services, our goal is to be the university's trusted business partner by creating a culture of exceptional customer service. Bringing together a team of diverse and talented professionals, we provide the central IT services that support USC's schools, hospitals, research centers, and administrative units. Through our recently launched digital transformation initiatives, we aim to develop an environment of continuous service improvement, founded on cross-functional teamwork, industry best practices, innovation, and commitment to the customer experience.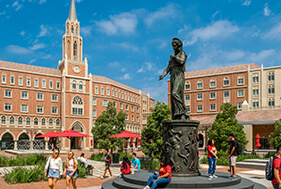 Armenian Genocide Indexer
Apply
Information Technology Services
ITS
Los Angeles, California
We are currently seeking Armenian Genocide Indexers to join the Shoah Foundation Institute for Visual History within Information Technology Services. Indexers will be responsible for indexing oral history interviews with survivors and other witnesses of the Armenian Genocide. The indexing work involves researching, selecting and placing terms from a thesaurus into timecoded segments of the video or audio interview.
The successful candidate should have at least one year of experience with indexing as well as possess excellent analytical, writing and communication skills. They should be highly knowledgeable of about the history of the Armenian Genocide and versed with the geography of the Ottoman Empire and modern Middle East. Knowledge of Armenian, as well as experience in higher education, are strongly preferred.
The USC Shoah Foundation Institute was founded by Steven Spielberg in 1994 and has collected, cataloged, digitized and preserves interviews of Holocaust survivors and witnesses as well as survivors of other genocides and conflicts. The Institute houses nearly 55,000 audio-visual testimonies conducted in 63 countries and in 40 languages.
This is a fixed-term position with an anticipated end date of August 1, 2025. This is a full-time role eligible for benefits including medical, dental and vision plans, a competitive 401K plan.
Using judgment and discretion, index the audiovisual interviews of Armenian Genocide survivors and witnesses in English and Armenian using the USC Shoah Foundation Institute's proprietary cataloging software and methodology:
• Catalog information taken from pre-interview questionnaires
• Watch the audiovisual testimonies and assign indexing terms from a VHA Thesaurus
• Conduct research to resolve specific indexing issues
• Complete the cataloging and indexing of the testimonies and any associated research
• Successfully complete approximately 50-hours of initial online training
• After the training period, work hours are flexible
Qualifications:
Must have a Bachelor's Degree or combined experience/education as substitute for advanced education
Proven academic knowledge of History, Political Science, or Armenian Studies with coursework in Armenian/Ottoman/Turkish history and/or genocide studies, or equivalent knowledge

Fluency in English and both Western and Eastern Armenian
Fluency in one or more of the following languages desired but not required: Turkish
Excellent research skills
Attention to detail
Computer proficiency

Experience with relational databases

Ability to take constructive criticism
Ability to view and work with genocide-related material on a sustained basis
Library science background and/or cataloging or indexing experience
Familiarity with relevant names (geographic and proper) and foreign cultures

One year of experience in an Indexing role

Demonstrated experience researching and validating index terms

Demonstrated ability to communicate effectively to gather information  

Typically possesses experience interpreting testimonies

Typically possesses experience indexing in a second language   

Typically possesses experience in higher education

Excellent analytical, writing and communication skills

Ability to work in a fast-paced environment while balancing and prioritizing multiple projects

Ability to learn, adapt quickly and work well under pressure.

Demonstrated organizational skills, extreme attention to detail and ability to work both independently and as part of a team.
Job Accountabilities:
Serves as departmental link between users and system technical staff to provide effective user service and to provide system and data control. Monitors system input and output for accuracy and currency of information. Liaises between technical staff and users to resolve problems and coordinate changes and enhancements.
Maintains and updates system security and user access capabilities. Approves requests for new and/or changed access. Sets up users and maintains appropriate documentation.
Contributes to the development of system standards and procedures. Incorporates knowledge of specific departmental functions and processes with knowledge of university and external agency regulations and practices to serve as a guideline for system development.
Researches records and gathers information as background for special projects, enhancement of databases, decisions on requests for policy exception, and providing management reports.
Provides reports to management regarding activities and recommends areas of improvement.
Assesses user training needs and develops and implements programs to train new and continuing staff. Covers areas such as data security, quality and privacy awareness.
Develops and maintains communications materials such as documentation and procedural manuals, resource or reference guides, newsletters, and bulletins to support system users.
Evaluates and recommends refinements in department operations to ensure integrity of system data while maximizing productivity and providing high quality services.
Reviews internal operations to determine compliance with established policies and procedures. Consults with managers and staff regarding irregular items and recommends action to departmental senior management when a deficiency is detected.
Stays informed of new developments and technologies by reading journals and other pertinent publications, maintaining contact with vendors, and participating in professional organizations, meetings and seminars.
Performs other duties as assigned or requested. The university reserves the right to add or change duties at any time.
Preferred Qualifications:
MA-level or higher degree in History, Political Science, Sociology or Armenian Studies with coursework in Armenian/Ottoman/Turkish history and/or genocide studies, or equivalent knowledge
Master's degree in Library and Information Science from an ALA accredited program
Prior experience with USC Shoah Foundation's indexing applications
3 years of experience in a related role
Knowledge of languages (Turkish, Kurdish, Arabic or Russian.)   
Minimum Education: Bachelor's degree, Combined experience/education as substitute for minimum education Minimum Experience: 1 year Minimum Field of Expertise: Detailed knowledge of systems for which position is accountable. Knowledge of various software applications as necessary for data collection and report writing.
REQ20121275 Posted Date: 08/07/2022
Apply