Faculty
"The University of Southern California is committed to excellence in teaching through strategies that foster the knowledge, skills, relationships, and values necessary for students to make real contributions in a rapidly changing world. USC is an equitable and diverse research university, and we recognize the many ways inclusivity strengthens our campus community. Our superb faculty have the exceptional responsibilities of creating new knowledge and instructing and guiding our passionate, hardworking student body" –Elizabeth Graddy, Executive Vice Provost for Academic Affairs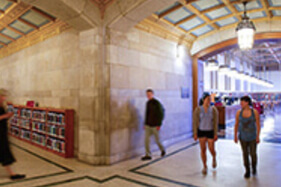 Assistant/Associate or Professor of Clinical Pathology (Neuropathology)
Apply
Keck School of Medicine
Faculty
Los Angeles, California
The University of Southern California (USC), founded in 1880, is the largest private employer in the City of Los Angeles. As an employee of USC, you will be a part of a world-class research university and a member of the "Trojan Family," which is comprised of the faculty, students and staff that make the university what it is.
The Department of Pathology and Laboratory Medicine of the Keck School of Medicine of the University of Southern California seeks an outstanding, academically-oriented neuropathologist for a full-time faculty position. The Department seeks an individual with advanced diagnostic abilities in Neuropathology, preferably with a record of evidence of research scholarship in neurodegenerative disease. The successful candidate will be provided with time and facilities for research with the opportunity to play a major role in the USC Alzheimer Disease Research Center. The successful candidate will also contribute to education of medical students, residents and Neuropathology fellows.
Applicants must hold an MD/DO degree, be eligible for an unrestricted California license to practice, and be board eligible or board certified in Neuropathology and Anatomic Pathology.

Appointment will be in the Clinical track at the Assistant, Associate or Full Professor level. Academic rank and salary are commensurate with qualifications.
The University of Southern California strongly values diversity and is committed to equal opportunity in employment.  Women and men, and members of all racial and ethnic groups, people with disabilities, and veterans are encouraged to apply.
REQ20116942 Posted Date: 05/17/2022
Apply
Staff jobs for current employees
Please visit the Career Worklet on the Workday Homepage and select "Find Jobs" to view USC Jobs.
(If you're not currently a USC employee, click here to view USC jobs)