Faculty
"The University of Southern California is committed to excellence in teaching through strategies that foster the knowledge, skills, relationships, and values necessary for students to make real contributions in a rapidly changing world. USC is an equitable and diverse research university, and we recognize the many ways inclusivity strengthens our campus community. Our superb faculty have the exceptional responsibilities of creating new knowledge and instructing and guiding our passionate, hardworking student body" –Elizabeth Graddy, Executive Vice Provost for Academic Affairs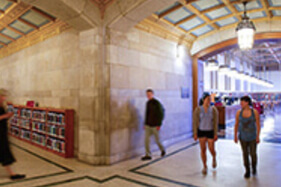 Assistant/Associate Professor -- Instructional (Open Rank)
Apply
Herman Ostrow School of Dentistry
Faculty
Los Angeles, California
The Mrs. T.H. Chan Division of Occupational Science and Occupational Therapy at the University of Southern California invites applicants for one full-time 12-month clinical faculty position. This position will serve as an Academic Fieldwork Coordinator for Productive Aging and Geriatrics and will work with the Division's current faculty members to coordinate both Level I and Level II Fieldwork in a variety of settings with older adults. This includes advising students on fieldwork processes and assigning students to fieldwork as it coincides with Chan academic programs. This position also involves strengthening partnerships with existing fieldwork sites through mentorship of fieldwork educators, and developing new sites including opportunities in innovative and role-emerging settings. The Academic Fieldwork Coordinator, along with the fieldwork team will plan and present student orientations and fieldwork seminars for educators in the community. Additionally, all Academic Fieldwork Coordinators collaborate to maintain compliance with the American Occupational Therapy Association (AOTA) Accreditation Council for Occupational Therapy Education (ACOTE) standards. This position may also include teaching opportunities.
The anticipated start date for this position is July 1, 2022.
Qualifications include: an earned O.T.D. or Ph.D., experience working in an occupational therapy practice setting with older adults, and current license to practice occupational therapy in California.
The University of Southern California and USC Chan strongly value diversity and inclusion; we are committed to equal opportunity in employment. Women and men, and members of all racial and ethnic groups, people with disabilities, and veterans are encouraged to apply.
REQ20115588 Posted Date: 04/26/2022
Apply