Let's change the world together!
USC is a leading private research university located in Los Angeles – a global center for arts, technology and international business. As one of the city's largest private employers, responsible for more than $8 billion annually in economic activity in the region, we offer the opportunity to work in a dynamic and diverse environment, in careers that span a broad spectrum of talents and skills across a variety of academic schools and units. As a USC employee, you will enjoy excellent benefits and perks, and you will be a member of the Trojan Family - the faculty, staff, students and alumni who make USC a great place to work. Think you've got what it takes to join us? We invite you to search our open positions and apply!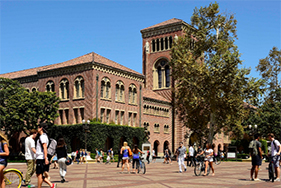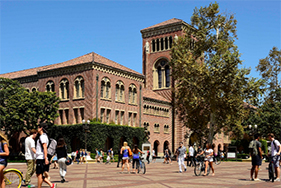 Assistant Director for Direct Marketing Services
Apply
University Advancement
Los Angeles, California
USC, founded in 1880, is located in the heart of downtown Los Angeles and is the largest private employer in the city. As an employee of USC, you will be a part of a world-class research university and a member of the "Trojan Family," which is comprised of the faculty, students and staff that make the university what it is.
USC values diversity and is committed to equal opportunity in employment. USC University Advancement is committed to fostering a diverse, equitable, and inclusive culture in which all advancement staff and our stakeholders have the opportunity to connect, belong, and grow while supporting the USC's mission, values, and goals.
The USC University Advancement Office of Annual Giving seeks an Assistant Director for Direct Marketing Services to join its team. The Assistant Director for Direct Marketing Services will report to the Senior Executive Director of University Annual Giving and will serve as a lead liaison for university wide programs direct marketing efforts, and has project management responsibility for appeal design and creative assets, copywriting, development and execution of direct mail and online solicitations in addition to annual donor stewardship communications. While coordination with the multiple internal staff and vendors is involved, the major focus of all these combined fundraising efforts is to raise private annual support and increase donor participation at the University of Southern California. The Assistant Director will play an active role as a leader of the annual giving team, participating fully and providing expertise on annual fund strategies and the implementation of those strategies. The ideal incumbent will be a visionary and creative professional with proven direct marketing experience and a track record for implementing programs that increase annual revenue and expand the donor base. Also imperative is the ability to multi-task to meet priorities and goals.
Specific duties include:
Under the guidance of the Executive Director of University Annual Giving, she/he/they works with the marketing team and design agencies to develop optimal approach to increasing donor participation and fundraising revenue using new and current best practice.


Produces marketing concepts, including copy and design approaches, which adhere to and build on the USC brand.


Produces copywriting and creative for appeals, including letters, emails, calling scripts and training materials.


Ensures measurement techniques are built into fundraising activities, tracks results, and provides analysis and reports on individual projects.


Develops project timelines and works with internal staff to ensure deadlines are met, which include: lead conference calls and meetings related-to project preparations; gathers, maintains, and tracks creative assets; QA all creative executions prior to launch; monitor and troubleshoot campaign creative post-launch; communicate key campaign milestones, progress/delivery status, and manage expectations; and identify potential delivery risks and communicate/propose solutions.


Maintains relationships with and manages internal and external design agencies and printers, and ensures that designs and printing formats meet project requirements as well as overall USC graphic identity design standards.


Quotes design and production costs with vendors on a project by project basis.
Requirements
A demonstrated understanding of the fundamentals of annual giving fundraising, direct mail marketing, tele-fundraising and volunteer engagement, preferably in the context of an institution of higher education.

Minimum of five years relevant professional experience.

At least three years experience in the identification, analysis and selection process for outside resource relationships.

Understanding and experience with executing multi-channel campaigns of which digital is a part.

An ability to strategically build a program, to implement, to drive towards numerical goals and to produce outstanding results.

Demonstrated and outstanding analytical skills. Experience in collecting and analyzing marketing data and making programmatic decisions based on information.

A natural consensus builder able to work collaboratively with diverse constituencies both internal and external to the University.

Strong Microsoft Office skills required (Excel, Word, PowerPoint; Access and other

database experience a plus).

Working knowledge of production and filming processes for email and video creative development.

Strong working knowledge of Microsoft Office including Word, Excel & PowerPoint

Working knowledge of e-mail analytic applications, Customer Relationship Management software, business intelligence tools.

Working knowledge of Facebook, Twitter, and other social media applications.

Working knowledge of design applications and software.

Strong skills to negotiate best pricing with vendors to make best use of program budget resources.

Experience in effectively communicating with information technology resources to achieve mutual goals.
Qualifications
Excellent diplomatic skills.

Ability to maintain confidentiality.

Ability to learn and design communications using social media applications.

Able to manage multiple projects simultaneously.

Excellent communication skills.

Highly organized, flexible, creative, and detail-oriented.

Strong time-management and project prioritization skills, with a track record of delivering complex programs on time.
Required Documents and Additional Information:
Please provide a cover letter along with your resume. Please ensure both of these documents are attached.
The hourly rate range for this position is $24.86 - $32.02. When extending an offer of employment, the University of Southern California considers factors such as (but not limitedto) the scope and responsibilities of the position, the candidate's work experience, education/training, key skills, internal peer equity, federal, state, and local laws, contractual stipulations, grant funding, as well as external market and organizational considerations.
USC has excellent benefits, including health benefits for staff and their family with access to the renowned university medical network; retirement plans when you meet the Program's eligibility period; tuition benefits for staff and their family; free Professional Development classes; central Los Angeles location with easy access to commuter trains, buses & free tram pick up services.
Minimum Education: Bachelor's degree, Combined experience/education as substitute for minimum education Minimum Experience: 2 years Minimum Field of Expertise: Marketing, publications, public relations, business administration, communication, advertising or related field experience. Knowledge of the principles and practices of marketing. Demonstrated verbal and written communication skills.
REQ20119998 Posted Date: 01/01/2023
Apply