Faculty
"The University of Southern California is committed to excellence in teaching through strategies that foster the knowledge, skills, relationships, and values necessary for students to make real contributions in a rapidly changing world. USC is an equitable and diverse research university, and we recognize the many ways inclusivity strengthens our campus community. Our superb faculty have the exceptional responsibilities of creating new knowledge and instructing and guiding our passionate, hardworking student body" –Elizabeth Graddy, Executive Vice Provost for Academic Affairs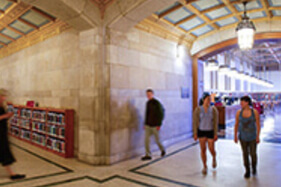 Assistant Professor of Clinical Medical Education
Apply
Keck School of Medicine
Faculty
Los Angeles, California
The University of Southern California (USC), founded in 1880, is the largest private employer in the City of Los Angeles. As an employee of USC, you will be a part of a world-class research university and a member of the "Trojan Family," which is comprised of the faculty, students and staff that make the university what it is.
The Keck School of Medicine of USC seeks applications for a full-time non-tenure track faculty member as the rank of assistant professor. This position supports the medical education enterprise through faculty development. Duties include planning and implementing faculty development programs at Keck and affiliated sites that educate faculty on teaching and learning, best practices as well as assisting in providing individualized faculty development plans for teaching effectiveness at all faculty levels. The faculty member will teach in the Master of Academic Medicine Program and assist with the annual Innovations in Medical Education Conference. Additional duties include collaborating with educational and administrative support units to achieve departmental goals, maintaining knowledge of current trends in medical education and assisting with the development and implementation of the MD program curriculum. Finally, the faculty member will participate in educational research initiatives set by the department or based on individual interests and goals, actively seek out external funding opportunities to support research efforts, and disseminate scholarship at local, regional, and national meetings and as publications.
 "The annual base salary range for this position is $96,000- $120,000. When extending an offer of employment, the University of Southern California considers factors such as (but not limited to) the scope and responsibilities of the position, the candidate's work experience, education/training, key skills, internal peer equity, federal, state, and local laws, contractual stipulations, grant funding, as well as external market and organizational considerations."
Candidates for this position must have an advanced degree (PhD or EdD) in Education, Healthcare Education or related field. At least 3 years of experience in higher education or medical education preferred.
The University of Southern California strongly values diversity and is committed to equal opportunity in employment.  Women and men, and members of all racial and ethnic groups, people with disabilities, and veterans are encouraged to apply.
REQ20120527 Posted Date: 01/22/2023
Apply
Staff jobs for current employees
Please visit the Career Worklet on the Workday Homepage and select "Find Jobs" to view USC Jobs.
(If you're not currently a USC employee, click here to view USC jobs)