Faculty
"The University of Southern California is committed to excellence in teaching through strategies that foster the knowledge, skills, relationships, and values necessary for students to make real contributions in a rapidly changing world. USC is an equitable and diverse research university, and we recognize the many ways inclusivity strengthens our campus community. Our superb faculty have the exceptional responsibilities of creating new knowledge and instructing and guiding our passionate, hardworking student body" –Elizabeth Graddy, Executive Vice Provost for Academic Affairs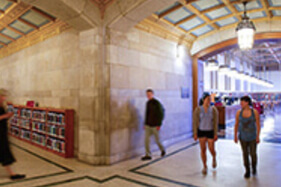 Assistant Professor of Clinical Obstetrics and Gynecology
Apply
Keck School of Medicine
Faculty
Los Angeles, California
The University of Southern California (USC), founded in 1880, is the largest private employer in the City of Los Angeles. As an employee of USC, you will be a part of a world-class research university and a member of the "Trojan Family," which is comprised of the faculty, students and staff that make the university what it is.
The Keck School of Medicine at the University of Southern California is seeking a full-time assistant professor of clinical obstetrics and gynecology, specifically in the division of Maternal-Fetal Medicine. The successful applicant will have: excellence in clinical and surgical skills, skills in leading and teaching ambulatory patient care, skills in leading and directing ambulatory care with familiarity of metrics and practice guidelines, evidence of teaching, research or other specialty-related accomplishments, experience with teaching and mentoring residents, fellows and junior faculty.  Candidates must be board certified/board eligible in Ob/Gyn with a subspecialty in Maternal-Fetal Medicine as well as have eligibility for licensure in the state of California. The Division of Maternal-Fetal Medicine at the University of Southern California is one of the leading academic and clinical perinatology groups in the country. Our physicians work in conjunction with community referring Ob/Gyns all over LA County, in which the candidate will be expected to provide a wide spectrum of specialized services to maximize maternal and fetal well-being. This includes consultations, genetic counseling, diagnostic and therapeutic services for outpatient clinics and hospitalized patients with acute and chronic conditions. The position offers a competitive salary with excellent university benefits and an academic appointment at the Keck School of Medicine of USC appropriate to the level of training and experience. The University of Southern California is an equal opportunity employer.
Qualified candidates should respond with a letter of interest, CV, and three recommendation letters to Cheryl Piazzola (Cheryl.Piazzola@med.usc.edu), Special Projects Manager of Faculty Affairs in Obstetrics and Gynecology.
The University of Southern California strongly values diversity and is committed to equal opportunity in employment.  Women and men, and members of all racial and ethnic groups, people with disabilities, and veterans are encouraged to apply.
REQ20115457 Posted Date: 04/14/2022
Apply