Faculty
"The University of Southern California is committed to excellence in teaching through strategies that foster the knowledge, skills, relationships, and values necessary for students to make real contributions in a rapidly changing world. USC is an equitable and diverse research university, and we recognize the many ways inclusivity strengthens our campus community. Our superb faculty have the exceptional responsibilities of creating new knowledge and instructing and guiding our passionate, hardworking student body" –Elizabeth Graddy, Executive Vice Provost for Academic Affairs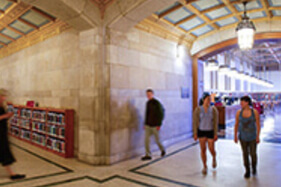 Assistant Professor of Clinical Population and Public Health Sciences
Apply
Keck School of Medicine
Faculty
Los Angeles, California
The University of Southern California (USC), founded in 1880, is the largest private employer in the City of Los Angeles. As an employee of USC, you will be a part of a world-class research university and a member of the "Trojan Family," which is comprised of the faculty, students and staff that make the university what it is.
The Department of Population and Public Health Sciences at the University of Southern California invites applications for a talented candidate at any level of clinical track (assistant, associate, or full professor) in the Division of Environmental Health of the Department to primarily expand a productive teaching program in environmental health. The current undergraduate curriculum includes established courses in environmental health policy, climate change, and the fundamentals of environmental health (including exposure, risk, susceptibility to air, water, soil, food, and consumer products). This new position seeks to enhance and foster current and future teaching capacities, with a proposed start date of 01July 2022.
Individuals with training and demonstrated skills in one or more of the following areas of Environmental Health should apply:
assessment of environmental exposures and their documented impacts on the human microbiome across the life course. characterization or quantification of total environmental exposures through an exposomic approach of multiple pathway considerations. quantitative exposure risk assessment and/or understanding of potential mitigation approaches and strategies for reduction of exposure potential to susceptible populations, especially disproportionately exposed populations of lower socio-economic background. expertise in current and novel sampling approaches for population-based research. other domains of exposure assessment to improve understanding and evaluation of pollution impacts on the health of diverse human populations (by age, race, sex, and other attributes of susceptibility).
An advanced degree (PhD, ScD, or equivalent) in public health or engineering sciences (including but not limited to public health, environmental engineering, atmospheric sciences, toxicology, exposure assessment, climate change, or epidemiology) or some facet of the physical sciences (molecular biology, biomedical sciences, biochemistry, physiology, toxicology, chemistry, atmospheric physics, or environmental engineering) is desired. Preferred candidates for the assistant professor's position should have completed postdoctoral training or equivalent. A demonstrated record of accomplishments within the field of environmental health sciences commensurate with stage of career is desirable. Collegiality, resourcefulness, and motivation are highly expected characteristics in the environmental health division. Research opportunities are a possibility, but the position is envisioned as fundamentally a part-time or full-time teaching position.
Primary responsibilities include instruction for an established undergraduate environmental health training program within the Health Promotion and Disease Prevention Program. Opportunities for teaching within our successful and growing MPH program for in-person or on-line teaching opportunities exist. Demonstrative strengths of the Keck School of Medicine include the existence of multiple, active and well-developed research efforts oriented towards etiologic, intervention, population-based, and basic science research on understanding environmental impacts of multi-pollutant exposures to human health outcomes across the life course, with a special focus in early-life, childhood, and later-life impacts. The department has a world-renown research group in environmental epidemiology and biostatistics, with an active and well-funded program in environmental health effects research and a growing interest in novel approaches to disentangling multi-pollutant exposure contributions to environmental health impacts on multiple organ systems of interest.  The department has diverse expertise in environmental respiratory, neurological, cardiovascular, metabolic and cancer epidemiology and in methodological research on environmental and genetic epidemiology. A dynamic group of investigators in the NIH-funded Southern California Environmental Health Sciences Center and MADRES Center for Environmental Health Disparities offer opportunities for a wide range of collaborations with other USC schools and across several Southern California institutions.
Apply here and upload curriculum vitae, a brief summary of course teaching interests, and names and contact information for three individuals who are familiar with academic accomplishments including teaching and communication skills. For further inquiries, contact:
Roberta McKean-Cowdin,
Vice-Chair for Education
Department of Population and Public Health Sciences
Keck School of Medicine of USC
2001 N Soto Street
Los Angeles CA  90089-9237
Email: mckeanco@usc.edu
The University of Southern California strongly values diversity and is committed to equal opportunity in employment. Women and men, and members of all racial and ethnic groups, people with disabilities, and veterans are encouraged to apply.
REQ20117493 Posted Date: 05/23/2022
Apply