Faculty
"The University of Southern California is committed to excellence in teaching through strategies that foster the knowledge, skills, relationships, and values necessary for students to make real contributions in a rapidly changing world. USC is an equitable and diverse research university, and we recognize the many ways inclusivity strengthens our campus community. Our superb faculty have the exceptional responsibilities of creating new knowledge and instructing and guiding our passionate, hardworking student body" –Elizabeth Graddy, Executive Vice Provost for Academic Affairs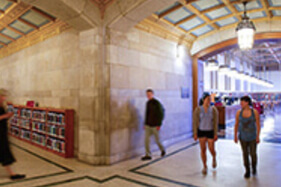 Assistant Professor of Economics
Apply
Dornsife College of Letters, Arts and Sciences
Faculty
Los Angeles, California
The Department of Economics in the Dornsife College of Letters, Arts and Sciences at the University of Southern California (Los Angeles, CA) invites outstanding candidates to fill one full-time tenure-track faculty/Assistant Professor position in the field of Econometrics with an anticipated start date of Fall 2023.  A doctoral degree in Economics is required at time of appointment. Tenure-track candidates are expected to publish in leading economic journals and to be effective teachers.
Interested candidates should submit:
1. Cover letter;
2. Curriculum Vitae;
3. Job market paper;
4. Research statement;
5. Statement describing efforts to encourage equity, diversity, and inclusion; and
6. Three names of individuals who will be contacted by USC for a letter of reference.
In order to be considered for this position, all candidates must apply via the "Apply" link at the top or bottom of this page. Applications are due by December 1, 2022 to ensure consideration by the hiring committee.
The annual base salary range for this position is $127,500 - $160,000. When extending an offer of employment, the University of Southern California considers factors such as (but not limited to) the scope and responsibilities of the position, the candidate's work experience, education/training, key skills, internal peer equity, federal, state and local laws, contractual stipulations, grant funding, as well as external market and organizational considerations.
USC is an equal-opportunity educator and employer, proudly pluralistic and firmly committed to providing equal opportunity for outstanding persons of every race, gender, creed and background. The university particularly encourages members of underrepresented groups, veterans and individuals with disabilities to apply. USC will make reasonable accommodations for qualified individuals with known disabilities unless doing so would result in an undue hardship. Further information is available by contacting uschr@usc.edu.
REQ20125286 Posted Date: 12/20/2022
Apply
Staff jobs for current employees
Please visit the Career Worklet on the Workday Homepage and select "Find Jobs" to view USC Jobs.
(If you're not currently a USC employee, click here to view USC jobs)