Faculty
"The University of Southern California is committed to excellence in teaching through strategies that foster the knowledge, skills, relationships, and values necessary for students to make real contributions in a rapidly changing world. USC is an equitable and diverse research university, and we recognize the many ways inclusivity strengthens our campus community. Our superb faculty have the exceptional responsibilities of creating new knowledge and instructing and guiding our passionate, hardworking student body" –Elizabeth Graddy, Executive Vice Provost for Academic Affairs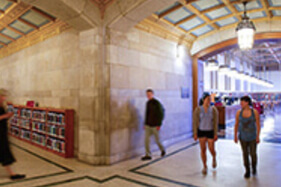 Assistant Professor of Practice in Dance
Apply
Kaufman School of Dance
Faculty
Los Angeles, California
The University of Southern California (USC), founded in 1880, is in the heart of downtown L.A., and is the largest private employer in the City of Los Angeles. As an employee of USC, you will be part of a world-class research university and a member of the "Trojan Family," which comprises the faculty, students, and staff that make the university what it is.
The hallmark of the newly-established USC Glorya Kaufman School of Dance — as expressed in its motto "The New Movement" — is the development of a new movement model manifesting in new media, scholarship, studio practice and choreography for the 21st century. The school provides students with foundational knowledge, opportunities for artistic development, access to a diverse performance repertory, exposure to world-renowned practicing artists, dance conditioning, and strategic career venture skills.
In the fall of 2015, USC Kaufman enrolled its first cohort of BFA dance majors. USC Kaufman also offers a robust array of non-major and minor offerings in dance open to all USC students. The dance minor is designed to present undergraduate students with a focus on the discipline of dance as an educational tool for study and research, offering students an interdisciplinary experience compatible with a variety of majors. Visit the School's website at kaufman.usc.edu for more information.
USC offers a wide range of benefits to full-time faculty, including health, retirement, and tuition assistance.  More information about our comprehensive benefits and perks can be found on our Benefits website.
The USC Glorya Kaufman School of Dance invites applications for a Full-time, Assistant Professor of Practice in Dance (Teaching). USC Kaufman seeks a collaborative, dynamic and innovative artist-scholar to provide specialized instruction to BFA, dance minor, and elective student populations. Ideal candidates will be comfortable teaching one or more of the following General Education classes: Introduction to Dance as an Art Form, International and Historical Perspectives on Dance, Origins of Jazz Dance, African American Dance, and/or Dancing On the Screen. The position requires confidence and prior experience in directing rehearsals, supervising the staging of new and established repertory, providing production support, and managing performance logistics. Ability to teach improvisation, composition, and dance technique in one or more of the following forms: Hip-Hop, Jazz, Contemporary, Ballet, Tap, Commercial and/or Vernacular dance. Experience with curriculum development also a plus. 
Additional responsibilities include working collaboratively with faculty and staff to sustain a safe and supportive educational environment that nurtures dancers from a holistic perspective, collaborating with faculty on student evaluations, grading and assessment, participating in the recruitment, review, and selection of prospective students, serving on departmental committees, and overseeing dance productions on a rotating basis with other faculty. Applicants will be expected to represent USC Kaufman at the University as well as within local, national, and international dance communities. Candidates will serve a diverse student population, must demonstrate a commitment to improving outcomes for historically under-served populations, and are expected to contribute to the School's diversity, inclusion, and equity efforts.
QUALIFICATIONS
The USC Glorya Kaufman School of Dance is interested in recruiting candidates who have demonstrated an ongoing, successful engagement with the highest standards of both scholarship and creative activity, consistent with the expectations for excellence in a Research I university.
Successful candidates will: (1) have significant university-level experience in teaching lecture courses (2) have notable experience as a repetiteur, rehearsal director and/or dancer in the professional sphere (3) have significant breadth of aesthetic-framework fluency (not necessarily expertise) to include hip-hop, jazz, contemporary, ballet, tap, commercial dance, and/or vernacular dance (4) possess an established reputation as an artist and educator.
Minimum:
Terminal degree (MFA or PhD) in dance or a related field.
Professional or University-level experience teaching in the field of dance and/or significant experience as a repetiteur, rehearsal director, or dancer in a professional context.
STARTING DATE
August 16, 2023. Initial appointment will be for 3 years. Renewal beyond the initial period of appointment is possible, but not guaranteed. Position is not eligible for tenure. Compensation commensurate with experience.
REVIEW OF APPLICATIONS
Begins November 1, 2022, and continues until position is filled.
TO APPLY
All candidates should submit a (1) letter of interest; (2) curriculum vitae including teaching experience, courses taught and developed, professional experience for productions and/or choreography; and (3) names and contact information for three current professional references (included on the CV). Additional materials may be requested later. Letters of interest should describe candidate's commitment to promoting diversity, inclusion, and equity in higher education and the performing arts.
REQ20124583 Posted Date: 10/04/2022
Apply