Faculty
"The University of Southern California is committed to excellence in teaching through strategies that foster the knowledge, skills, relationships, and values necessary for students to make real contributions in a rapidly changing world. USC is an equitable and diverse research university, and we recognize the many ways inclusivity strengthens our campus community. Our superb faculty have the exceptional responsibilities of creating new knowledge and instructing and guiding our passionate, hardworking student body" –Elizabeth Graddy, Executive Vice Provost for Academic Affairs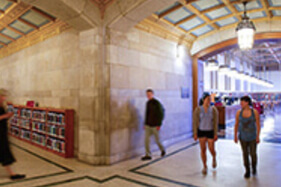 Associate/Assistant Professor of Population and Public Health Sciences Epidemiology and Genetics (Tenure Track)
Apply
Keck School of Medicine
Faculty
Los Angeles, California
The University of Southern California (USC), founded in 1880, is the largest private employer in the City of Los Angeles. As an employee of USC, you will be a part of a world-class research university and a member of the "Trojan Family," which is comprised of the faculty, students and staff that make the university what it is.
The Division of Epidemiology and Genetics within the Department of Population and Public Health Sciences at the University of Southern California (USC) invites applications for a tenured or tenure track faculty position as Assistant or Associate Professor. We seek faculty who will develop programs in genetic, molecular or nutritional epidemiology for pediatric or adult disease. Current areas of research activity include studies of biomarkers, metabolomics, genetic susceptibility, the microbiome, and environmental, developmental and epigenetic approaches as they relate to health disparities for common chronic diseases and phenotypes including cancer and metabolic diseases including diabetes. The successful candidate is expected to bring or develop an externally funded research to obtain and sustain independent or collaborative extramural NCI or other NIH-type funding. Expertise in conducting clinical-translational epidemiological studies and traditional epidemiological methodology is desired but not required. The Division of Epidemiology and Genetics is closely linked with the Center of Genetic Epidemiology and the Cancer Epidemiology Program of the USC Norris Comprehensive Cancer Center and the Children's Hospital of Los Angeles. The Department of Population and Public Health Sciences is one of the nation's leading research programs in epidemiology, biostatistics, cancer control and environmental health with particular expertise in research in diverse populations, such as the Multiethnic Cohort resource. The Department offers opportunities for a wide range of research collaborations, leadership roles, teaching and mentoring of graduate students and postdoctoral fellows.

Candidates should have a demonstrated publication and funding record and leadership within the fields of epidemiological research listed above, commensurate with stage of career. Collegiality, resourcefulness and motivation are highly desirable characteristics of the successful candidate.
Apply here and upload curriculum vita, a brief summary of research interests, and names and contact information for three individuals who are familiar with academic accomplishments.
For further inquiries, please contact:
Chris Haiman, ScD
Director, Center for Genetic Epidemiology
Professor, Department of Population and Public Health Sciences, Keck School of Medicine, University of Southern California
ALFAC Chair of Cancer Research
Harlyne Tower, Room 1504
1450 Biggy Street
Los Angeles, CA 90089
Office 323-442-7755
Email: haiman@usc.edu
The University of Southern California strongly values diversity and is committed to equal opportunity in employment. Women and men, and members of all racial and ethnic groups, people with disabilities, and veterans are encouraged to apply.
REQ20098724 Posted Date: 03/22/2022
Apply