Let's change the world together!
USC is a leading private research university located in Los Angeles – a global center for arts, technology and international business. As the city's largest private employer, responsible for more than $8 billion annually in economic activity in the region, we offer the opportunity to work in a dynamic and diverse environment, in careers that span a broad spectrum of talents and skills across a variety of academic schools and units. As a USC employee, you will enjoy excellent benefits and perks, and you will be a member of the Trojan Family - the faculty, staff, students and alumni who make USC a great place to work. Think you've got what it takes to join us? We invite you to search our open positions and apply!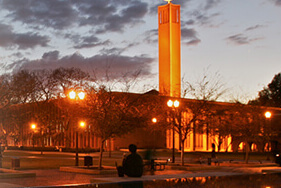 Associate Director of Development, Corporate and Foundation Relations (Health-Related Initiatives)
Apply
University Advancement
Los Angeles, California
The University of Southern California, founded in 1880, is located in the heart of downtown and is the largest private employer in the City of Los Angeles. As an employee of USC, you will be a part of a world-class research university and a member of the "Trojan Family."

USC values diversity and is committed to equal opportunity in employment. USC University Advancement is committed to fostering a diverse, equitable, and inclusive culture in which all advancement staff and our stakeholders have the opportunity to connect, belong, and grow while supporting USC's mission, values, and goals.
USC seeks an Associate Director of Development, Corporate and Foundation Relations to join its University Advancement team. The position reports to the Senior Executive Director of Corporate and Foundation Relations in University Advancement. The Associate Director will carry a portfolio of prospects at the major gift level, with a primary focus on prospects for USC's health-related initiatives, including the USC Ostrow School of Dentistry, the USC School of Pharmacy, the USC Davis School of Gerontology, the USC Suzanne Dworak-Peck School of Social Work and the USC Keck School of Medicine. Working in close collaboration with the Chief Development Officers and/or their designees, the Associate Director will be responsible for qualifying corporate or foundation donors and cultivating new gifts to achieve workplan goals and metrics.  As a contributor to USC's University Advancement team, the successful candidate will engage with faculty and researchers within the schools to identify strategic opportunities aligned with relevant corporate and foundation funders. The position requires excellent written, oral, and interpersonal communication skills, as well as the ability to work collaboratively across disciplinary and interdisciplinary lines and to interact successfully with a diverse constituency of varying abilities, backgrounds, interests, and beliefs.
Responsibilities:
Manages, plans, organizes, and conducts specific fundraising programs or specialized development projects for health-related fundraising. Contributes to short and long-term strategic planning efforts. Assesses, analyzes, and evaluates funders for specific fundraising programs or specialized projects.


Identifies strategies for the cultivation of donor prospects. Conducts research to update and expand donor base.
May lead staff, volunteers, temporary and/or resource workers, as required. Plans and forms support and volunteer groups. Provides leadership, work guidance and/or training. Schedules, assigns and prioritizes workloads, as needed. Sets appropriate deadlines. Ensures timely completion of work.


Writes, edits, and produces fundraising and/or marketing materials. Develops support materials for specific fundraising activities.


May plan, organize, and coordinate special events and activities.


Identifies, cultivates, and maintains relationships with donors and volunteers.


As needed, manages program or event budgets. Provides recommendations for the development of a school or department fiscal year operating budget.
Key to success in this role include:
Strengths in analysis, strategy, and problem-solving

Results-driven motivation

Individual initiative and strong teamwork

Excellent written and oral communication of complex topics for a general audience

Professionalism in collaborating with diverse groups of internal and external stakeholders

Business development experience and expertise
Minimum Qualifications
Bachelor's degree (4 years)

3 + years of experience (research, professional, and/or fundraising)

Demonstrated ability to develop proposals, preferably in a university setting (i.e.: grant writing, grant management, worked on a team under a grant, etc.)

Results-oriented: comfortable with production goals, accountability, independence, initiative, and teamwork

Strong communication skills (verbal, written, and presentation)

Ability to work effectively with colleagues, faculty, and foundation staff

Capacity to understand and communicate research or programmatic information to a variety of stakeholders; adaptable communication style

Initiative and curiosity to learn
Preferred Qualifications
Familiarity with and experience in a university setting is preferred (as a researcher, professor, grant manager, fundraiser, etc.).

Ideal candidates will have a minimum of 3 years of experience in Foundation Relations, Corporate Relations, Development or Advancement Services, and proven success managing fundraising projects and/or programs, preferably in a large university setting.
Documentation and Additional Information:

To apply, submit a resume and cover letter (which may be uploaded as one file). Please do not submit your application without these documents.
The annual base salary range for this position is $96,744 - $100,000. When extending an offer of employment, the University of Southern California considers factors such as (but not limited to) the scope and responsibilities of the position, the candidate's work experience, education/training, key skills, internal peer equity, federal, state, and local laws, contractual stipulations, grant funding, as well as external market and organizational considerations.

USC has excellent benefits, including health benefits for staff & their family with access to the renowned university medical network; retirement plans with employer contributions once you meet Program's eligibility; tuition benefits for staff & their family; central Los Angeles location with easy access to commuter trains, buses & free tram pick up services.
The University of Southern California values diversity and is committed to equal opportunity in employment.
Minimum Education: Bachelor's degree Additional Education Requirements Combined experience/education as substitute for minimum education Minimum Experience: 3 years Minimum Skills: Fundraising, campaigns and/or volunteer management
REQ20124044 Posted Date: 01/01/2023
Apply