Faculty
"The University of Southern California is committed to excellence in teaching through strategies that foster the knowledge, skills, relationships, and values necessary for students to make real contributions in a rapidly changing world. USC is an equitable and diverse research university, and we recognize the many ways inclusivity strengthens our campus community. Our superb faculty have the exceptional responsibilities of creating new knowledge and instructing and guiding our passionate, hardworking student body" –Elizabeth Graddy, Executive Vice Provost for Academic Affairs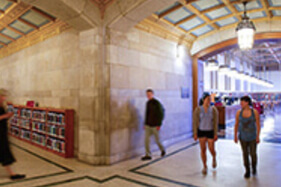 Certified Registered Nurse Anesthetist - Clinical Instructor of Anesthesiology (Practitioner)
Apply
Keck School of Medicine
Faculty
Los Angeles, California
The University of Southern California (USC), founded in 1880, is the largest private employer in the City of Los Angeles. As an employee of USC, you will be a part of a world-class research university and a member of the "Trojan Family," which is comprised of the faculty, students and staff that make the university what it is.
The Keck School of Medicine of the University of Southern California is seeking full-time faculty Certified Registered Nurse Anesthetists (CRNAs) to join the Department of Anesthesiology. As a USC faculty member, CRNAs have the opportunity fully engage in the academic activities of the department including fulfilling opportunities in teaching and research with the Doctorate of Nurse Anesthesia Program and within the USC academic community. Qualified CRNAs are eligible for academic advancement within the university structure.
QUALIFICATIONS:
Candidates for this position should have knowledge of current nursing, anesthesia and critical care techniques as evidence by the following: 1) a graduate from a school of nurse anesthesia accredited by the Council on Accreditation of Nurse Anesthesia Educational Programs and Schools, 2) Valid and current California RN license (Department Consumer Affairs), 3) valid California nurse anesthetist license (CRNA) approved and accepted by the State of California Board of Registered Nursing, 4) current certification/re-certification issued by the Council on Certification of Nurse Anesthetists and/or Council on Recertification of Nurse Anesthetists, 5) valid basic life support certification and advanced cardiac life support certification from the American Heart Association and have the ability to perform cardiopulmonary resuscitation.
SPECIFIC
DUTIES,
RESPONSIBILITIES
and
REQUIRED
SKILLS:
Under the medical direction of an anesthesiologist, administer general, regional, or MAC anesthesia for all types of surgical procedures to various age groups including: pediatric, adolescent, adult and geriatric patients in accordance with hospital and departmental standards of care. CRNA must demonstrate an understanding of the cognitive, physical, and emotional development of patients of each age group: pediatric, adolescent, adult and geriatric. CRNA interventions may include: preoperative assessment, airway management, fluid balance maintenance, monitoring (pre- operative, intra-operative, and post-operative), placement of invasive monitoring, etc.
CRNA must demonstrate both technical, clinical, and professional skills within the scope of practice as defined by the State of California Department of Consumer Affairs and AANA.
Proficient in written/computerized charting and documentation.
Knowledgeable of equipment and supplies (i.e. anesthesia machine, ultrasound, etc.). Maintains equipment and supplies as outlined in USC department policies and procedures.
Checks anesthesia equipment daily and in-between cases to assure safe operating condition
Pre-operatively evaluates patients by interviewing and examining the patient; reviews electronic chart for any additional relevant information.
Anesthesia Care Team (ACT) Model: Collaborates with the anesthesiologist regarding anesthetic plan and treatment based on pre-operative examination. Communicates with anesthesiologist and surgeon regarding special concerns of patient
Prepares medications for administration. Prepares all necessary equipment.
Under the medical direction of the anesthesiologist, administers anesthesia in accordance with specific clinical privileges.
Place invasive monitoring if needed. Monitors the patient intra-operatively.
Evaluates post-operative condition of patient and takes necessary action to maintain stability. Order post anesthetic care unit (PACU) orders.
Academic involvement with the Program of Nurse Anesthesia. Precepts student nurse anesthetists. Mentor and instruct student nurse anesthetists in the clinical and/or classroom setting.
Maintains accurate accounting of controlled substances in accordance with department guidelines.
Complies with organizational rules, policies and procedures (i.e. JCAHO, CAC Title 22, Regional and Department requirements).
Establishes and maintains courteous and cooperative relations when interacting with public, patients, faculty, staff, and other personnel.
Abides by USC-KSOM Policies and Procedures, Principles of Responsibilities and applicable state, federal and local laws. Complies with organizational rules, policies and procedures (i.e. JCAHO, Title 22, Regional and Department requirements).
The annual base salary range for this position is $219,000-$280,000.  When extending an offer of employment, the University of Southern California considers factors such as (but not limited to) the scope and responsibilities of the position, the candidate's work experience, education/training, key skills, internal peer equity, federal, state, and local laws, contractual stipulations, grant funding, as well as external market and organizational considerations.
To be considered for this position apply here and for further inquiries, please contact CV to JCasalme@med.usc.edu
The University of Southern California strongly values diversity and is committed to equal opportunity in employment. Women and men, and members of all racial and ethnic groups, people with disabilities, and veterans are encouraged to apply.
Scheduled Hours (1-40): 40 hours
Shift: Variable
Working Days: Mon, Tue, Wed, Thu, Fri
Working Hours Start: Varies Working Hours End: Varies Job Type: Full Time
Employee Status: Faculty Certified Registered Nurse Anesthetist
Public Department Name: Keck School of Medicine (KSOM) Department of Anesthesiology Travel: No, work limited to on campus OR sites (Keck Medical Center, Outpatient Surgery Center, and Norris Cancer Center)
Job Eligible for Benefits: Yes
REQ20134657 Posted Date: 05/25/2023
Apply
Staff jobs for current employees
Please visit the Career Worklet on the Workday Homepage and select "Find Jobs" to view USC Jobs.
(If you're not currently a USC employee, click here to view USC jobs)