Faculty
"The University of Southern California is committed to excellence in teaching through strategies that foster the knowledge, skills, relationships, and values necessary for students to make real contributions in a rapidly changing world. USC is an equitable and diverse research university, and we recognize the many ways inclusivity strengthens our campus community. Our superb faculty have the exceptional responsibilities of creating new knowledge and instructing and guiding our passionate, hardworking student body" –Elizabeth Graddy, Executive Vice Provost for Academic Affairs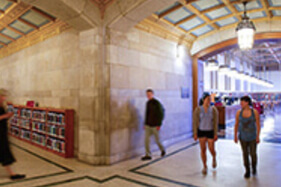 Clinical Assistant Professor of Family Medicine (Clinician Educator) HIV Faculty Position
Apply
Keck School of Medicine
Faculty
Los Angeles, California
The University of Southern California (USC), founded in 1880, is the largest private employer in the City of Los Angeles. As an employee of USC, you will be a part of a world-class research university and a member of the "Trojan Family," which is comprised of the faculty, students and staff that make the university what it is.
The Department of Family Medicine is seeking a HIV fellowship trained HIV physician. The position is now open and this person will work with the faculty and staff of the USC Pacific AIDS Education and Training Center (PAETC) and Family Medicine Department to provide education and training, serve as a preceptor in the HIV Clinical Leadership Fellowship program, provide clinical care, and participate in scholarly work as appropriate within the department.
In these roles, this faculty physician will provide HIV care in the Rand Schrader Infectious Disease Clinic of LAC+USC Medical Center, under the direction of its Medical Director. As an HIV Educator this individual will work with the Principal Investigator of the PAETC and with the leadership team of the HIV Clinical Leadership Program, which is a joint program with the LAC Department of Health Services.  Depending on the candidate and departmental needs, this individual may be involved with other clinical activities such as street medicine and primary care.
We are seeking a Family or Internal Medicine physician who has completed an HIV clinical fellowship or an Infectious Disease fellowship and has experience in providing HIV care, plus education with health care professionals and HIV service agencies. Training and/or experience in Southern California is also preferred for this position. 
Qualifications:
Board Certified in Family Medicine or Internal Medicine
Completion of an HIV fellowship program is preferred
Medical and DEA license in California or willingness to obtain?
Experience in training family medicine residents
Commitment to the underserved
Skill providing care for diverse populations (i.e. homeless, incarcerated), street medicine is preferred
Having creativity, a spirit of enjoyment, and a sense of humor to all tasks
For the qualified candidate, depending on experience, the appointment will be at the Clinical  Assistant or Clinical Associate Professor of Family Medicine (Clinician Educator) rank in the Keck School of Medicine.  We prefer for this position to be full-time, but will consider part-time depending upon the qualifications of the individual.
As a full-time or as 50%+ part-time faculty position the individual is eligible for USC benefits.
The University of Southern California strongly values diversity and is committed to equal opportunity in employment.  Women and men, and members of all racial and ethnic groups, people with disabilities, and veterans are encouraged to apply.
REQ20108621 Posted Date: 10/21/2021
Apply