Faculty
"The University of Southern California is committed to excellence in teaching through strategies that foster the knowledge, skills, relationships, and values necessary for students to make real contributions in a rapidly changing world. USC is an equitable and diverse research university, and we recognize the many ways inclusivity strengthens our campus community. Our superb faculty have the exceptional responsibilities of creating new knowledge and instructing and guiding our passionate, hardworking student body" –Elizabeth Graddy, Executive Vice Provost for Academic Affairs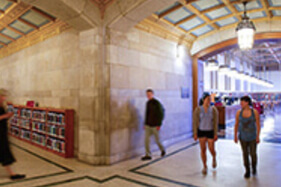 Clinical Assistant Professor of Radiology (Part-Time)
Apply
Keck School of Medicine
Faculty
Los Angeles, California
The University of Southern California (USC), founded in 1880, is the largest private employer in the City of Los Angeles. As an employee of USC, you will be a part of a world-class research university and a member of the "Trojan Family," which is comprised of the faculty, students and staff that make the university what it is.
The Department of Radiology at the Keck School of Medicine of USC is seeking candidates on a part-time, fixed term basis, for faculty imaging positions in the Neuroradiology division. The Department is comprised of 73 faculty, 21 fellows, and 41 residents. We have both accredited residency and fellowship programs. We are located on the Keck School of Medicine campus in Downtown Los Angeles. Our hospitals include Los Angeles County Medical Center, Keck Medical Center of USC, Verdugo Hills Hospital and Norris Comprehensive Cancer Center. Outpatient sites include a full-service outpatient imaging and PET/CT center. All sites are within walking distance. Each is different in character, serving distinct patient populations but treating a wide variety of disease process. We have some of the most advanced imaging facilities for state-of-the-art imaging and operate an active molecular imaging facility and cyclotron for novel compound production. We also have a 4D lab group available for image construction and quantitative analysis and collaboration.
The University of Southern California strongly values diversity and is committed to equal opportunity in employment.  Women and men, and members of all racial and ethnic groups, people with disabilities, and veterans are encouraged to apply.
REQ20099180 Posted Date: 04/20/2021
Apply