Faculty
"The University of Southern California is committed to excellence in teaching through strategies that foster the knowledge, skills, relationships, and values necessary for students to make real contributions in a rapidly changing world. USC is an equitable and diverse research university, and we recognize the many ways inclusivity strengthens our campus community. Our superb faculty have the exceptional responsibilities of creating new knowledge and instructing and guiding our passionate, hardworking student body" –Elizabeth Graddy, Executive Vice Provost for Academic Affairs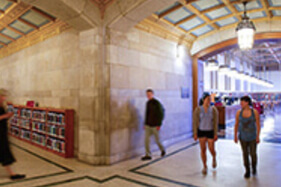 Clinical Instructor of Family Medicine (Practitioner)
Apply
Keck School of Medicine
Faculty
Los Angeles, California
The University of Southern California (USC), founded in 1880, is the largest private employer in the City of Los Angeles. As an employee of USC, you will be a part of a world-class research university and a member of the "Trojan Family," which is comprised of the faculty, students and staff that make the university what it is.
The Department of Family Medicine of the Keck School of Medicine of USC (DFM) is seeking a primary care focused Advanced Practice Provider, Clinical Instructor of Family Medicine (Practitioner), to join our primary care practice in the Los Angeles area.  We are looking for a provider who has interest and skill in working collaboratively with primary care physicians, specialists and other health professionals in providing high quality medical care to our patients as a part of our growing practice.
Who we are:


Keck Medicine of USC is a rapidly growing healthcare system that, in partnership with Keck School of Medicine (KSOM), strives to be the trusted leader in quality health care that is personalized, compassionate and innovative.  The Department of Family Medicine is leading the growth and development of primary care services at Keck Medicine of USC and is committed to providing high quality care to patients and their families in the context of their community. Clinical services include a growing team-based private practice that works collaboratively with primary care physicians, medical specialists and other professionals including:
·
Pharmacy, occupational therapy and behavioral health to provide interdisciplinary care to our patients and their families
·
Comprehensive specialty care services co-located to provide valuable consultation and collaboration
·
A street medicine program to care for the most vulnerable in our community
·
A two-site state of the art student health center
·
An HIV fellowship program
Our excellence in geriatric health care has earned us national recognition from U.S. News & World Report Best Hospitals.

We have an energetic and visionary Chair who also serves as the Associate Dean of Primary Care and the President of the Medical Group, and is committed to partnering with Keck Medicine and community organizations to bring innovative primary care to communities in need and to expanding our presence throughout the greater Los Angeles community. Some of these initiatives include:
·
The first Keck Medicine sponsored high tech, high touch residency program focused on training a diverse, culturally congruent healthcare workforce to be leaders in building innovative, evidence-based interventions that utilize cutting-edge technologies to deliver patient-centered care focused on eliminating health care disparities.
·
Growth of our Street Medicine program for unsheltered residents of Los Angeles County by flipping our model of care to bring medicine to people where they live.
·
Growing primary care services in Keck multi-specialty practice locations, as well as strategically building relationships with community providers and creating new models of care that make access easier for patients and families
·
Growth and development of our faculty and staff by creating a culture that embraces inclusion and continuous learning and improvement
Our providers are allotted time to develop their teaching and research interests with resources available to foster professional development including:    
·
Research: We are currently ranked #17 nationally among Family Medicine Departments across the country in NIH funding.
·
Teaching: Various opportunities such as precepting, mentoring, teaching and advising medical and PA students.
Candidates should have excellent interpersonal communication skills and demonstrate a commitment to interprofessional practice, cultural competence, and quality improvement. 

Job accountabilities would be as follows:
Clinical- Estimated 95% of time. Teaching- Estimated 5% of time.
Obtains detailed and accurate medical histories from patients. Performs appropriate physical examinations, delineates problems, and records the information in the electronic health record.

Develops patient centered care plans, which incorporate counseling on healthy lifestyle choices, preventative medical care and psychosocial stressors, as well as coordination of referrals to specialty and behavioral health services.

Performs and/or interprets common laboratory, radiological, and other routine diagnostic procedures- as needed.

Participate in on-call for ill or injured patients and those seeking medical advice after hours.

Performs medical procedures/examinations such as: physical exams, minor procedures, pap Smears, suturing and wound care and caring for adults and children with acute and chronic conditions.

Provides continuity of care in the management of complex illnesses.
The University of Southern California strongly values diversity and is committed to equal opportunity in employment.  Women and men, and members of all racial and ethnic groups, people with disabilities, and veterans are encouraged to apply.
REQ20106757 Posted Date: 08/02/2022
Apply