Faculty
"The University of Southern California is committed to excellence in teaching through strategies that foster the knowledge, skills, relationships, and values necessary for students to make real contributions in a rapidly changing world. USC is an equitable and diverse research university, and we recognize the many ways inclusivity strengthens our campus community. Our superb faculty have the exceptional responsibilities of creating new knowledge and instructing and guiding our passionate, hardworking student body" –Elizabeth Graddy, Executive Vice Provost for Academic Affairs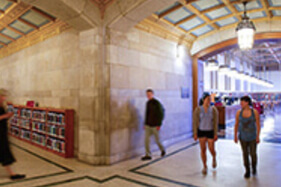 Clinical Instructor of Surgery (Fellow) Hepatobiliary Surgery Clinical Fellowship
Apply
Keck School of Medicine
Faculty
Los Angeles, California
The University of Southern California (USC), founded in 1880, is the largest private employer in the City of Los Angeles. As an employee of USC, you will be a part of a world-class research university and a member of the "Trojan Family," which is comprised of the faculty, students and staff that make the university what it is.
The Division of Hepato-Biliary/Pancreatic Surgery and Abdominal Organ Transplantation is offering a non ACGME-accredited clinical fellowship in Hepato-Pancreato-Biliary Surgery. The hepato-pancreato-biliary (HPB) Surgery Fellowship at University of Southern California is primarily a clinical training program with a focus on both open and minimally invasive pancreato-biliary and liver surgery. Extensive experience in preoperative evaluation, intraoperative decision making, and postoperative care are key elements of the training. Clinical exposure to the complete spectrum of benign and malignant HPB diseases is a hallmark of the training. Both laparoscopic and robotic HPB surgery are offered.
Opportunity details:
•           The position is a One-year fellowship with a start date of August 1, 2022.
•           The position will be primarily based at Hoag presbyterian hospital and USC Keck Medical Center.
•           Examinations and Certifications: Applicants must have passed the USMLE Step 1, 2, & 3 exams. Applicants must have had at least 5 years of prior training in an ACGME accredited residencyor in an AOA (American Osteopathic Association) accredited residency Applicants who are ABS Board Eligible or Certified or AOBS (American Osteopathic Board of Surgery) Eligible or Certified.
•           Interested candidates should apply here and upload  (1) letter of intent/cover letter, (2) CV, and (3) three letters of recommendation.  For further inquiries contact:    Celeste Mendoza at celestem@med.usc.edu
The University of Southern California strongly values diversity and is committed to equal opportunity in employment.  Women and men, and members of all racial and ethnic groups, people with disabilities, and veterans are encouraged to apply.
REQ20115738 Posted Date: 04/27/2022
Apply