Let's change the world together!
USC is a leading private research university located in Los Angeles – a global center for arts, technology and international business. As the city's largest private employer, responsible for more than $8 billion annually in economic activity in the region, we offer the opportunity to work in a dynamic and diverse environment, in careers that span a broad spectrum of talents and skills across a variety of academic schools and units. As a USC employee, you will enjoy excellent benefits and perks, and you will be a member of the Trojan Family - the faculty, staff, students and alumni who make USC a great place to work. Think you've got what it takes to join us? We invite you to search our open positions and apply!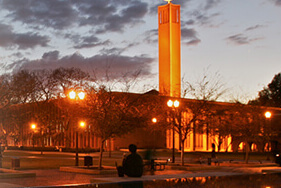 Clinical Veterinarian
Apply
Office of Research
Los Angeles, California
POSITION SUMMARY
The University of Southern California, Department of Animal Resources, is seeking a responsible, self-motivated, organized, and knowledgeable individual for a position of Clinical Veterinarian. The Department of Animal Resources takes pride in providing optimal animal care for all animals housed at the university for the purposes of biomedical research and teaching. The Clinical Veterinarian will assist the Director of the department in supporting research programs and providing animal health care to a diverse animal population including both small and large laboratory animals.
This individual will provide clinical veterinary care to animals; manage preventive medical programs; participate in IACUC activities; perform post-approval monitoring of protocols; provide training programs; provide consultation for research staff; supervise employees; and participate in resident training in an ACLAM-approved training program.
RESPONSIBILITIES AND DUTIES
· Provide clinical, diagnostic, and surgical services and care to animals
· Manage preventive medical programs including rodent health surveillance, quarantine, and diagnostic laboratory activities
· Participate in IACUC activities including investigator interactions, protocol review, and inspections
· Perform post-approval monitoring of animal research protocols
· Provide training programs for animal care and research staff members
· Provide research support and consultation to principal investigators
· Assist in maintaining university compliance with federal, state, and local regulations and policies
· Supervise unit employees as assigned
· Participate in training residents in an ACLAM-approved training program
· Perform other related duties as assigned or requested within the scope of knowledge and abilities. The University reserves the right to add or change duties at any time
EXPERIENCE AND QUALIFICATIONS
Minimum Education:
D.V.M or equivalent
Minimum Experience:
3 years of veterinary experience in a clinical or research setting
Minimum Field of expertise:
· Veterinary medical license in at least one state or eligibility for licensure in California
· Strong clinical, diagnostic, and surgical skills with a variety of laboratory animal species
· Completion of a residency training program in laboratory animal medicine, ACLAM board certification or eligibility, and experience working at an academic research institution are highly desirable
· Excellent administrative skills including recordkeeping, prioritizing multiple tasks, researching information, scheduling, and applying understood policies and procedures
· Excellent interpersonal communication skills
USC RESEARCH
It's an exciting time at USC. We are world-renowned for our innovated education, academic excellence and path-breaking research in a vibrant region exploding with potential. As a part of a university that is on an upward trajectory, excellent development and advancement opportunities are possible here. Ultimately, you will support the university's expansive, humanity-centered mission: "The development of human beings and society as a whole through the cultivation and enrichment of the human mind and spirit."
BENEFITS
USC has excellent benefits, include a choice of retirement programs, 22 paid vacation days per year, university holidays, a choice of medical and dental plans, and tuition assistance (for employees and eligible dependents). Located central Los Angeles location with easy access to commuter trains, buses and free tram pick up services; discounts to football, basketball and other campus events. For more information about benefits see benefits.usc.edu
USC is an equal-opportunity educator and employer, proudly pluralistic and firmly committed to providing equal opportunity for outstanding persons of every race, gender, creed and background. The university particularly encourages members of underrepresented groups, veterans and individuals with disabilities to apply. USC will make reasonable accommodations for qualified individuals with known disabilities unless doing so would result in an undue hardship. Further information is available by contacting uschr@usc.edu
Minimum Education: D.V.M Minimum Experience: 3 Years Minimum Field of Expertise: California State license in Veterinary Medicine and veterinary experience in a clinical or research setting
REQ20126434 Posted Date: 11/13/2022
Apply