Auxiliary Services
At USC Auxiliary Services, our mission is to create the best USC experience for our students, faculty, staff, visitors and community members, as we provide services across our six business units (Hospitality, Housing, Transportation, Bookstores, USC Hotel and the Los Angeles Memorial Coliseum). Auxiliary Services works diligently to welcome all visitors into the Trojan family and we are driven to succeed by our commitment to USC's core values. Our team is comprised of some of the very best people in our industries, with diverse backgrounds and experiences, who come together to provide the best products and best service for all Trojans.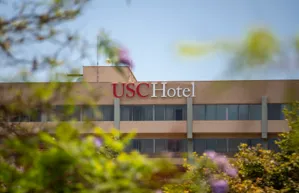 Maintenance Crew
Apply
Auxiliary Services
Auxiliary Services
Los Angeles, California
Please review the Affirmative Action and Equal Opportunity Planpage for more details regarding your rights and obligations as a job candidate.
USC Auxiliary Services, one of the largest divisions at The University of Southern California, is focused on making a difference for over 65,000 students, athletes, faculty, staff, and guests who visit our campuses each day.  Through our innovative services, our six central business units (USC Bookstores, USC Hospitality, USC Housing, USC Transportation, the USC Hotel and the Los Angeles Memorial Coliseum) collectively create the best USC experience for future leaders, scientists, filmmakers, engineers, and doctors alike. Auxiliary Services works tirelessly to welcome all visitors into the Trojan family. We are driven to succeed by our commitment to uphold our six unifying values in Integrity, Excellence, Well-Being, Open Communication, Accountability, and Diversity, Equity, and Inclusion.
In the ever-expanding city of Los Angeles, Trojans need reliable and convenient transportation options. USC Transportation has risen to meet that need, operating parking structures, busses, student-run Campus Cruisers and a fuel station. To meet the unique needs of each Trojan, Transportation also coordinates with numerous taxi companies and rental car agencies to provide a vast source of transit options. A division of USC Auxiliary Services, Transportation is always looking for new ways to make USC safer and more convenient for students, athletes, faculty, staff, and visitors.
We are seeking a Maintenance Crew to join our rapidly growing team.
The Opportunity:
The Maintenance Crew will be the first point of contact for our students, faculty, staff, parents, and guests. As a member of the Transportation team, you will take pride in providing the best customer service and maintaining the University's high standards for excellence.  Our team keeps the work environment positive and friendly, so that we can always greet our guests with a smile. If you enjoy interacting with and helping guests, join us today!
The Accountabilities:
Provide customer service to students, faculty, staff, and external customers. Meet customer needs, offer options, resolve problems, and follow up with customers. Maintain friendly, helpful demeanor.

Identify and prioritize problems and issues related to service area. Performs research, offers solutions, options and strategies. Refer to appropriate person or department as needed, and/or arranges for service. Gather data as necessary for related offices such as Financial Aid, Admissions, Student Conduct and student issues using the University Information Systems. Track problem status until resolution is achieved. Maintain close contact with customer to give updates on progress toward resolution of issue or service request.

Train, schedule, assign, and prioritize workloads. Interpret operating policies and procedures. Ensure timely completion of department's work. May lead student workers.

Mails/messages daily for essential updates with regard to repairs and duties.

Inspect all vehicle gates daily at university‐owned properties for proper operation and perform preventive maintenance with minor repairs if required.

Pick up income at pay stations and parking meters, download audit reports, and repair if required.

Meet with vendors for major repairs.

Repair and install all signage throughout the university‐owned properties.

Paint and remove graffiti at parking facilities.

Check all gate entrance (kiosks) for water and supplies.

Provide university village coverage on a daily basis.

Assist with mobile duties.

Opening and closing of USC HSC/UPC campus.

Non key vehicle entries.

Vehicle battery assistance.

Barricade and cone off for special details.

Assist with duties related to all special events.

Perform other related duties as assigned or requested. The University reserves the right to add or change duties at any time.
The Qualifiers:
Education: High School Diploma.

Experience: 1 year.

Expertise:

Experience in a fast-paced customer service environment.

Demonstrated customer service and interpersonal skills.

Ability to communicate effectively in English.

Presents oneself professionally, in line with higher education environment.

Must have valid CA driver's license and meet the requirements of the USC Vehicle/Driver Requirements Policy (https://policy.usc.edu/vehicle-driver-requirements/)
Other Qualifications:
Basic mechanical and electrical troubleshooting skills.

Ability to communicate professionally and work in a team environment.

Have good analytical skills and should be keen to take initiatives.

Hands on experience in technology is a plus.
What We Prefer:
Bachelor's Degree.

2 years of experience in a fast-paced environment.

Ability to oversee student, temporary, and/or resource workers.
The Trojan Family Rewards:
We pride ourselves in creating the BEST USC EXPERIENCE, and that begins with our employees! We offer a wide variety of benefits and programs that support our staff and their families including. For more information, please visit benefits.usc.edu.
This support advocates work-life balance and employee well-being. As members of the Trojan family, employees are connected by the traditions and history that make us proud to be Trojans!
As an equal opportunity employer, USC values and promotes diversity and inclusion in the workplace. The work culture thrives on mutual respect, trust, and synergy amongst all of its members.
USC has great minds that transform the world with their talents and research. Will you be one? Join us!
FIGHT ON!
The hourly rate range for this position is $18.93 - $19.00. When extending an offer of employment, the University of Southern California considers factors such as (but not limited to) the scope and responsibilities of the position, the candidate's work experience, education/training, key skills, internal peer equity, federal, state, and local laws, contractual stipulations, grant funding, as well as external market and organizational considerations.
Minimum Education: High school or equivalent, Combined experience/education as substitute for minimum education Minimum Experience: 1 year, Combined education/experience as substitute for minimum experience Minimum Field of Expertise: Customer service
REQ20129101 Posted Date: 06/08/2023
Apply