Let's change the world together!
USC is a leading private research university located in Los Angeles – a global center for arts, technology and international business. As the city's largest private employer, responsible for more than $8 billion annually in economic activity in the region, we offer the opportunity to work in a dynamic and diverse environment, in careers that span a broad spectrum of talents and skills across a variety of academic schools and units. As a USC employee, you will enjoy excellent benefits and perks, and you will be a member of the Trojan Family - the faculty, staff, students and alumni who make USC a great place to work. Think you've got what it takes to join us? We invite you to search our open positions and apply!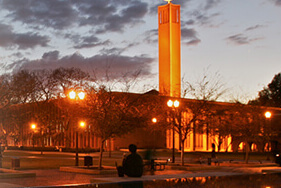 Digital Communications Specialist
Apply
Sol Price School of Public Policy
Los Angeles, California
In order for your application to be considered, please attach a cover letter and resume to your employment application.
The Leonard D. Schaeffer Center for Health Policy & Economics at the University of Southern California is seeking a Digital Communications Specialist to join the Center's Communication team. This is a full-time, 2-year (renewable) fixed term position. Hybrid work arrangement.
At the Schaeffer Center, we develop and effectively communicate evidence-based policy solutions that measurably improve lives and drive innovation in healthcare. The Schaeffer Center's Public Affairs team strategically engages with public and private sector stakeholders to provide them with an evidence-base for policy solutions.
The Digital Communications Specialist is a pivotal role within communications. Working with the Director of Communications and Data Visualization Specialist, they will translate Center research and findings into engaging content for multiple audiences and platforms. The Digital Communications Specialist will primarily be responsible for the Center's social media presence, newsletters and e-blasts. They will also provide support on press releases, blogs and updating the website.
This position requires a high degree of organization, ability to successfully manage multiple concurrent priorities, and skill in coordinating workflows and tasks among contributors and staff to progress projects. Ideal candidates should have an understanding of health policy and healthcare research or a strong interest and willingness to learn. This position is an integral part of the Center communications and helps with the development of an overall strategy, tracking and analyzing metrics, and planning the Center's editorial calendar. This full-time position offers growth potential for the ideal candidate.
Job Duties:
Develops a sophisticated digital engagement strategy, including social media, blogs, video and e-blasts to further the outreach of Center work

Creates digital event invitations, digital newsletters and other e-blasts

Supports the Center website updates, ensuring accuracy and timeliness of postings, and creation of engaging outputs to portray Center research

Leads social media strategy, including developing creative and engaging content across platforms, reacting to metrics, and maintaining Center brand, tone, and professionalism

Writes occasional press releases, news stories and blog posts

Works with Communications Director to develop relevant metrics and stories of impact that resulted from successfully disseminating Center research

Evaluates and follows procedures and USC Policy in accordance with communications and branding best practices to ensure quality control and efficiency

Performs other related duties as assigned or requested. The University reserves the right to add or change duties at any time
Minimum Education:
Bachelor's Degree
Preferred Education:
Master's Degree
Minimum Experience:
4 years progressive experience translating healthcare research and health policy into engaging visual content for multiple audiences/platforms and leading social media efforts
Preferred Experience:
6 Years [Combined experience/education as substitute for experience.]
Minimum Fields of Expertise:
Excellence in organizational and project management skills
Excellence in social media
Excellence in written and oral communications
Proficiency in Adobe Creative Suite (Illustrator, InDesign, Photoshop)
Proficiency in WordPress
Proficiency in designing Presentations (MS PowerPoint)
Understanding of health policy or healthcare research
Preferred Expertise:
Expertise in digital communications, including social media, e-blasts and websites
Expertise in translating data into engaging, user-friendly content
Experience with health policy or related fields
Compensation
Competitive and commensurate with experience and qualifications.
Position is 100% FTE on a 2-year (renewable) fixed term.
The hourly rate range for this position is $36.17 - $38.50. When extending an offer of employment, the University of Southern California considers factors such as (but not limited to) the scope and responsibilities of the position, the candidate's work experience, education/training, key skills, internal peer equity, federal, state, and local laws, contractual stipulations, grant funding, as well as external market and organizational considerations.
SPECIAL INSTRUCTIONS: Please attach your cover letter, resume, and samples of your work
About the Schaeffer Center:
The Schaeffer Center measurably improves value in health through evidence based policy solutions, research excellence, and private and public sector engagement. The Center is a unique collaboration of the USC Sol Price School of Public Policy and the USC School of Pharmacy. To learn more, please visit us on the web at healthpolicy.usc.edu, on Twitter @schaeffercenter, and on Facebook at facebook.com/SchaefferUSC.
The University of Southern California values diversity and is committed to equal opportunity in employment.
Minimum Education: Bachelor's degree, Combined experience/education as substitute for minimum education Minimum Experience: 3 years, Combined education/experience as substitute for minimum experience Minimum Field of Expertise: Thorough knowledge of marketing and business management. Knowledge of the principles, practices, concepts and methodology of marketing. Demonstrated verbal and written communication skills.
REQ20127085 Posted Date: 12/18/2022
Apply