Let's change the world together!
USC is a leading private research university located in Los Angeles – a global center for arts, technology and international business. As the city's largest private employer, responsible for more than $8 billion annually in economic activity in the region, we offer the opportunity to work in a dynamic and diverse environment, in careers that span a broad spectrum of talents and skills across a variety of academic schools and units. As a USC employee, you will enjoy excellent benefits and perks, and you will be a member of the Trojan Family - the faculty, staff, students and alumni who make USC a great place to work. Think you've got what it takes to join us? We invite you to search our open positions and apply!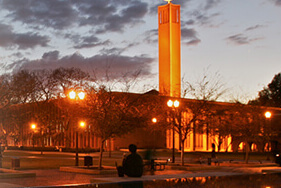 Director of Artificial Intelligence Division
Apply
Viterbi School of Engineering
Los Angeles, California
USC's Information Sciences Institute (ISI), a unit of the university's Viterbi School of Engineering, is a world leader in the research and development of advanced artificial intelligence, information processing, computing, cybersecurity, and communications technologies. ISI's 400 faculty, professional staff and graduate students carry out extraordinary information sciences research at three locations - Marina Del Rey, CA; Arlington, VA; and Waltham, MA.
ISI's Artificial Intelligence research division is looking for a Division Director. The Artificial Intelligence division is ISI's largest research division, home to some 150 faculty, research staff, and students.  To find out more about the research being done in the AI division go to https://www.isi.edu/ai/about/.
*This position is located in our Marina del Rey, CA, Office, but there is a possibility of working from our Waltham (Boston), MA, Office.*
Candidates for ISI's AI Division Director can be hired as a Senior Supervising Computer Scientist or as a  research faculty member in an appropriate department within the Viterbi School of Engineering, depending on the background of a candidate.  
PREFERRED QUALIFICATIONS/EXPERIENCE
Experience managing a significantly sized research group that includes faculty, staff, and graduate students.
Experience writing and winning large proposals to research-funding agencies and successfully managing the resulting projects.
Experience mentoring researchers in obtaining research funding.
Experience interacting with representatives of government research-funding agencies.
A strong publication record in top conferences and journals in the field of Artificial Intelligence or related disciplines.
JOB ACCOUNTABILITIES
Oversees a major research area. Initiates innovative research programs of national significance. Establishes research directions. Directs, plans and oversees research strategy.
Develops funding sources and originates research proposals for the purpose of obtaining funding to support leading-edge research.
Applies computer science principles and concepts in planning, coordinating, and executing research objectives of unit. Determines and/or recommends unit salary administration including raises and reclassifications. Approves/disapproves all work guidance actions within unit.
Oversees budget and/or finances and other administrative requirements for the research projects. Works closely with project leaders, administrative and financial staff to maintain a careful accounting of finances, and ensures research projects' budgets are maintained. Follows up with funding agencies to ensure funding and increments arrive on a timely basis.
Writes articles for publication.
Serves as a resource for funding agencies and/or other organizations to provide requested or required financial information and reports and/or in matters of technological achievement in a given area.
Makes presentations at conferences, participates in workshops and meetings, and collaborates in specific areas of research.
Networks with professional counterparts inside and outside the University. Participates in professional associations to stay informed of new developments and technologies.
The University of Southern California values diversity and is committed to equal opportunity in employment.
Minimum Education: Doctorate, Combined experience/education as substitute for minimum education Minimum Experience: 10 years Minimum Field of Expertise: Advanced degree in computer science or related discipline. Strong managerial skills. Demonstrated record of outstanding research contributions and experience in an area of computer science, proven technical proficiency, exceptional creativity, successful collaboration with others, and independent thought. Demonstrated reputation as an emerging leader in field with sustained performance and accomplishment. Demonstrated ability to conceptualize research directions, exert technical leadership, communicate technical ideas, coordinate individual contributions to a research program, and present research plans and results in a manner that will elicit favorable funding actions.
REQ20121888 Posted Date: 08/16/2022
Apply