Let's change the world together!
USC is a leading private research university located in Los Angeles – a global center for arts, technology and international business. As the city's largest private employer, responsible for more than $8 billion annually in economic activity in the region, we offer the opportunity to work in a dynamic and diverse environment, in careers that span a broad spectrum of talents and skills across a variety of academic schools and units. As a USC employee, you will enjoy excellent benefits and perks, and you will be a member of the Trojan Family - the faculty, staff, students and alumni who make USC a great place to work. Think you've got what it takes to join us? We invite you to search our open positions and apply!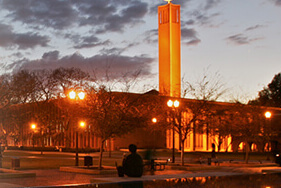 Director of Development for Stewardship and Corporate/Foundation Relations
Apply
School of Cinematic Arts
Los Angeles, California
The USC School of Cinematic Arts (SCA) seeks to hire a Director of  Development for Stewardship and Corporate/Foundation Relations, to help advance the mission of the SCA by identifying, cultivating, soliciting gift prospects as well as stewarding new and existing donors and gifts. The successful candidate will join a high-performing, diverse, and collegial development team and work a flex schedule that is primarily three days on campus and two days remotely. The Director of Development will report to the Senior Associate Dean of Advancement and External Relations.
The ideal candidate will be self-motivated and exhibit a commitment to collaboration, possess excellent communication and organizational skills.  They must also show an ability to work independently, and as part of a team, exhibit strategic thinking, sound judgement, initiative, flexibility, and professionalism. 
Role and Responsibilities 
Manage a portfolio of new and existing endowed funds and their stewardship with donors. Advance conversations with donors to engage or reengage with them to add to their funds or establish new ones.
Manage a portfolio of new and past donors who gifts to SCA include but are not limited to collections.  Ensure that records of these gifts are current and that donors are stewarded annually.
Manage a portfolio of corporations and foundations.  Identify cultivate and solicit for gifts to SCA.
Manage the gift agreement process including drafting, securing appropriate approvals and track all gift agreement deliverables that may include reports and invoices.
Prepare and deliver all donor briefings for meetings and events both on and off campus.
Communicate with donors annually providing additional SCA specific information to the stewardship and endowment reports sent by the University.
Manage donor recognition programs including tracking named spaces, working with donors to with plaque proofs, ordering plaques and overseeing installation. This position will also be responsible to identify new naming opportunities.
Outside of the SCA Advancement office, this  position will work closely with the Dean, Senior Business Officer, Division Chairs, Endowed chair faculty and senior faculty of the USC School of Cinematic Arts.   
This position will also work with the University's Advancement offices, and other academic units.
Participates in development and management of donor relations and prospect management systems.
Promotes an environment that fosters inclusive relationships and creates unbiased opportunities that uphold principles of the USC Code of Ethics.
Minimum Qualifications:
Bachelor's degree; Combined experience/education as substitute for minimum education.
Five years' experience; Combined education/experience as substitute for minimum experience.
Field of expertise: Experience in fundraising, maintaining meaningful relationships with a wide variety of internal/external stakeholders.  Ability to self-manage, prioritize work assignments and manage multiple deadlines. Experience maintaining and interpreting large datasets and database systems. Excellent planning, organizational and interpersonal skills. Detail-oriented with excellent written and oral communication skills. Proficient in Microsoft Office, Workday and Salesforce.
Preferred Education:
Preferred Experience:
Preferred Field of Expertise:
Bachelor's degree in business administration, public policy or a related field.  Development experience in higher education. Experience in management/leadership roles.  Volunteer experience in fundraising, campaign or non-profit environments.  Extensive customer service experience.
Applications should be submitted via usccarreers.usc.edu and should include the following:
Resume or CV and a cover letter, (

Our system will allow you to add additional documentation by clicking the "upload" button in the same section where you attach your resume.)

If you are a current USC employee, please visit the Career Worklet on the 

Workday Homepage

 and select "Find Jobs" to view USC Jobs.
Additional Information:
This is a full-time staff position.
Job openings are posted for a minimum of (5) five business days. This job may be removed from posting boards and filled any time after the minimum posting period has ended, so please apply on the same business day if interested.

USC has excellent benefits, including health and dental benefits for staff and their family with access to the renowned university medical network; eligibility for retirement plans; tuition benefits for staff and their family; central Los Angeles location with easy access to commuter trains, transit subsidy program, buses and free tram pick up services; discounts to sporting and other campus events.
The USC School of Cinematic Arts (SCA)
As the only media school in the world that teaches all the major disciplines of the Cinematic Arts, SCA offers a uniquely interdisciplinary learning experience. Our students take classes across seven divisions that cover the breadth of film, television, and interactive media. They are exposed to the latest technological advances and storytelling techniques of the industry and have opportunities to meet and network with some of its most successful practitioners.
In addition to superb faculty and resources, the greatest strength to our programs is the underlying philosophy that the best education comes from creating an environment where theory and practice are in constant interaction.  As our alumni roster reflects, this philosophy clearly prepares students to pursue their ambitions and dreams in the realm of entertainment. Perhaps more significantly, it instills a sense of discipline, teamwork, imagination and persistence that enables their contributions to our society to go well beyond their specific fields.
Salary Range:
The annual base salary range for this position is $96,743.96 -$110,058.96. When extending an offer of employment, the University of Southern California considers factors such as (but not limited to) the scope and responsibilities of the position, the candidate's work experience, education/training, key skills, internal peer equity, federal, state, and local laws, contractual stipulations, grant funding, as well as external market and organizational considerations.
Minimum Education: Bachelor's degree Addtional Education Requirements Combined experience/education as substitute for minimum education Minimum Experience: 3 years Minimum Skills: Fundraising, campaigns and/or volunteer management Preferred Experience: 5 years
REQ20125501 Posted Date: 01/22/2023 - Thru date - 2023-02-28
Apply