Let's change the world together!
USC is a leading private research university located in Los Angeles – a global center for arts, technology and international business. As the city's largest private employer, responsible for more than $8 billion annually in economic activity in the region, we offer the opportunity to work in a dynamic and diverse environment, in careers that span a broad spectrum of talents and skills across a variety of academic schools and units. As a USC employee, you will enjoy excellent benefits and perks, and you will be a member of the Trojan Family - the faculty, staff, students and alumni who make USC a great place to work. Think you've got what it takes to join us? We invite you to search our open positions and apply!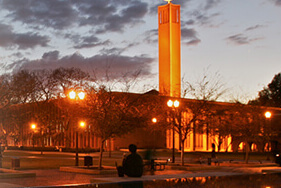 Financial Analyst II - Post Awards
Apply
Viterbi School of Engineering
Los Angeles, California
Information Sciences Institute (ISI), a unit of USC's Viterbi School of Engineering, is a world leader in the research and development of advanced information processing, computing, and communications technologies. ISI operates one of the world's largest academic high-performance computing clusters. ISI has three research campuses:  one in Marina Del Rey, CA; one in Arlington, VA; and one in Waltham, MA.
This position is located in Marina del Rey, CA.
Job Summary
USC Information Sciences Institute is seeking a team player with solid analytical and interpersonal skills to join the ISI Business Office team. A Financial Analyst who is proactive, detail-oriented and able work in a fast pace environment.
The Financial Analyst will interface with ISI Principal Investigators and the Business Office staff to facilitate the exchange of information and provide services associated with post-award research administration of sponsored projects. This position will perform complex financial budgeting, reporting and analyses to ensure sponsored projects stay on target and comply with the applicable contract requirements.
Job Accountabilities
Provides a range of post-award administrative support including budgeting, expenditure approvals and reporting requirement information. Prepares and submits interim reports, assists with subcontract and/or consultant arrangements and with preparation of closeout documents.
Prepares regular monthly financial forecasts and labor planning reports. Evaluates and analyzes reports and data. Develops conclusions and recommendations. Arranges monthly financial meetings with Principal Investigators and/or management to review financial summaries and address action items.
Coordinates, organizes and completes strategic and complex projects of a financial nature requiring identification and extraction of data, evaluation, interpretation, analysis and summation of findings.  
Assists with monitoring the financial operations for a large operating area of the university or for a significant financial activity. Identifies problems or trends and evaluates for solutions.
Advises on specific agency requirements and university guidelines to assist Principal Investigators with the administration and allowability of project expenditure.
Assists with the resolution of post-award administrative issues related to sponsored projects. Works closely with USC Sponsored Projects Accounting (SPA) and Department of Contracts and Grants on any issues that may arise on existing, continuing and/or expiring awards.
Preferred Qualifications
Education: Bachelor's degree in Finance, Accounting, Business or closely related field. 
Experience and Skills: 3 to 5 years of related work experience.
Directly related experience in a university environment with knowledge of university systems and procedures preferred.
Advance proficiency with Microsoft Excel, Word, PowerPoint, and Adobe Acrobat
Must have excellent written and oral communication skills
Demonstrated analytical capability in financial analysis & reporting with knowledge of computer simulation & forecasting techniques
Strong problem solving skills, including ability to research, organize and analyze information.
Must be able to anticipate potential issues and be proactive in formulating solutions.
Ability to interpret university policies and applicable federal regulations
Knowledge of Generally Accepted Accounting Principles
Must exercise a high level of confidentiality and discretion
A results oriented focus with demonstrated ability to prioritize and manage time sensitive issues and meet strict deadlines
Required Application Documents: CV/Resume and Cover Letter
The University of Southern California values diversity and is committed to equal opportunity in employment.
Minimum Education: Bachelor's degree Minimum Experience: 3 years Minimum Field of Expertise: Business education or closely related field. Experience in financial analysis and reporting with knowledge of computer simulation and forecasting techniques.
REQ20116482 Posted Date: 05/02/2022
Apply