Let's change the world together!
USC is a leading private research university located in Los Angeles – a global center for arts, technology and international business. As the city's largest private employer, responsible for more than $8 billion annually in economic activity in the region, we offer the opportunity to work in a dynamic and diverse environment, in careers that span a broad spectrum of talents and skills across a variety of academic schools and units. As a USC employee, you will enjoy excellent benefits and perks, and you will be a member of the Trojan Family - the faculty, staff, students and alumni who make USC a great place to work. Think you've got what it takes to join us? We invite you to search our open positions and apply!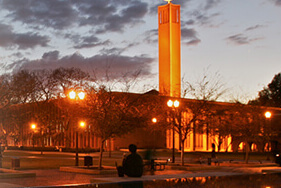 Front Office Coordinator
Apply
Student Affairs
Los Angeles, California
Front Office Coordinator
Office of the Vice President for Student Life
About USC:
The University of Southern California is one of the world's leading private research universities. An anchor institution in Los Angeles, a global center for arts, technology and international business, USC's diverse curricular offerings provide extensive opportunities for interdisciplinary study and collaboration with leading researchers in highly advanced learning environments.
About The Office of Student Affairs:
Student Affairs at the University of Southern California works to provide the university's nearly 50,000 undergraduate, graduate, and professional students the opportunity to reach their educational, personal, and professional aspirations. The mission of USC Student Affairs is to strengthen a culture driven by student well-being. To do this we:
● Support the individual student and student communities through the development of environments, services, and policies that reinforce shared strengths.
● Educate students to discover a deeper understanding of themselves and become change agents in the world.
● Engage students in transformative experiences to challenge their perspectives and become global citizens.
The Opportunity:
The Office of the Vice President for Student Life is the hub of university student life administration, and the Front Office Coordinator is the community's first point of contact within the office. This role is responsible for providing exceptional customer service to students, families, staff, faculty, and guests in person, over the phone, or via email. They are well versed in USC's student life services and able to handle inquiries with diplomacy, accuracy, and consistency. The Front Office Coordinator reports to the Executive Assistant to the Vice President for Student Life, and oversees a team of student employees helping to manage the front office operations of the suite. Student Affairs welcomes candidates with excellent interpersonal communication skills, a passion for student life, ability to work in a team environment, and experience leading office operations.
Job responsibilities include:
● Leads front desk customer service and operations, including greeting and assisting visitors, answering phone calls and emails, and taking and conveying messages.
● Responds accurately to inquiries and requests for information requiring knowledge of departmental and university services, policies, and procedures.
● Maintains office efficiency, plans and implements office systems, maintains and replenishes office inventory, checks stock to determine inventory levels.
● Assures that all office common spaces are clean, stocked, and well organized. Manages conference rooms bookings and ensuring they are ready for meetings.
● Processes incoming and outgoing mail and packages.
● Supervises, trains, and schedules the office's administrative student workers. Assigns and prioritizes workloads. Provides leadership and guidance. Sets appropriate deadlines and ensures
timely completion of work. Compiles and submits student worker timesheets. Monitors performance daily.
● Oversees office administration, including repair and maintenance services for a variety of office machines and services including computers, printers, photocopiers, digital displays, phones, alarm systems, etc. Reports more serious malfunctions and/or arranges for maintenance and repair by authorized service representatives.
● Prepares and issues bills, statements, receipts, checks and other related documents to office vendors. Reconciles financial records and researches and resolves discrepancies.
● Prepares and processes correspondence, reports, and/or other documents that may be complex and/or highly specialized. Proofs own work for accuracy and completeness. Ensures critical deadlines are met. Assembles and organizes data from different sources for internal reports and special studies.
● Perform other related duties as assigned or requested. The university reserves the right to add or change duties at any time.
Preferred Qualifications
The ideal candidate for the position of Front Office Coordinator meets the following preferred criteria:
● 3 years of customer service experience
● 3 years of experience with university departmental systems and procedures
● Associate degree
● Some supervisory experience
Minimum Qualifications
All candidates for the position of Front Office Coordinator must meet the following minimum qualifications:
● 2 years of customer service experience
● 2 years of administrative experience in a university environment
● High School diploma or equivalent
● Accomplished general office and organizational skills
● Experience working in a highly detailed oriented, confidential environment
● Impeccable integrity and high degree of accountability,
● Ability to effectively interact with students, families, staff, and faculty in high-stress situations
● Effective communication skills and strong relationship building experience
Application Procedure:
· Please include a cover letter with your CV/resume. It can be added to the application at the same time/place you add your CV/resume.
Skills: Customer Service and Administrative
● Answer telephones
● Assemble and coordinate manuscripts
● Assemble and organize numerical data
● Balance figures
● Communicate with others to gather information
● Compute totals
● Coordinate work of others
● Draft routine correspondence
● Edit routine documents
● Establish filing systems
● Gather data
● Input data
● Maintain filing systems
● Maintain logs
● Prioritize different projects
● Read handwritten text
● Research information
● Schedule appointments
● Understand and apply policies and procedures
● Use computerized spreadsheets
● Use database and/or word processing software
● Verify calculations
Skills: Other
● Assessment/evaluation
● Lead/guidance skills
● Scheduling
Skills: Machine/Equipment
● Calculator
● Computer network (department, school, or university)
● Computer peripheral equipment
● Digital displays
● Personal computer
● Photocopier
● Word processor
The hourly rate range for this position is $21.51 - $25.29 . When extending an offer of employment, the University of Southern California considers factors such as (but not limited to) the scope and responsibilities of the position, the candidate's work experience, education/training, key skills, internal peer equity, federal, state and local laws, contractual stipulations, grant funding, as well as external market and organizational considerations.
USC is an equal-opportunity educator and employer, proudly pluralistic and firmly committed to providing equal opportunity for outstanding persons of every race, gender, creed and background. The university particularly encourages members of underrepresented groups, veterans and individuals with disabilities to apply. USC will make reasonable accommodations for qualified individuals with known disabilities unless doing so would result in an undue hardship. Further information is available by contacting uschr@usc.edu
#LI-MN1
Minimum Education: Specialized/technical training Combined experience/education as substitute for minimum education Minimum Experience: 2 years Combined education/experience as substitute for minimum experience Minimum Field of Expertise: Accomplished general office and organizational skills along with working knowledge of standard software programs and applications. Needs to operate, maintain and demonstrate varied office equipment.
REQ20132707 Posted Date: 05/24/2023
Apply