Faculty
"The University of Southern California is committed to excellence in teaching through strategies that foster the knowledge, skills, relationships, and values necessary for students to make real contributions in a rapidly changing world. USC is an equitable and diverse research university, and we recognize the many ways inclusivity strengthens our campus community. Our superb faculty have the exceptional responsibilities of creating new knowledge and instructing and guiding our passionate, hardworking student body" –Elizabeth Graddy, Executive Vice Provost for Academic Affairs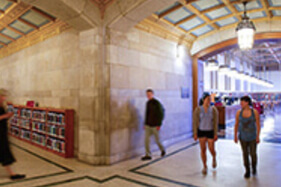 Full Time, (Open Rank-Tenure Track) Assistant/Associate Professor of Social Gerontology (Latino In Aging)
Apply
Leonard Davis School of Gerontology
Faculty
Los Angeles, California
The University of Southern California (USC) Leonard Davis School of Gerontology seeks to increase the number and diversity of tenure-track faculty conducting research on Latino Aging, both in the United States and across Latin America. The search committee is looking for candidates to join the outstanding faculty in understanding the determinants of aging in Latino populations.
Candidates will have a strong research profile focused on Latino aging, including topics such as cognitive aging and dementia, health behaviors, healthcare utilization, and health disparities. All career ranks will be considered. We are seeking candidates whose work will expand the research expertise of the school and can readily integrate or align with existing research programs. Current faculty members hold degrees in Sociology, Demography, Economics, Policy, Psychology, Public Health, Social Work, Urban Planning, Molecular Biology, Biochemistry, Genetics, and Medicine.
The Leonard Davis School of Gerontology and Andrus Gerontology center are multidisciplinary in their research and curriculum goals. This recruiting effort seeks candidates from diverse backgrounds and cultures, including graduates in disciplines and professions such as epidemiology, neuropsychology, and health services. Additionally, opportunities are available for joint appointments with academic units across the USC Campus. Cluster hires in areas of interest are possible.
The USC Leonard Davis School offers gerontology degrees at the bachelor's, master's, and doctoral levels. Faculty members teach at both graduate and undergraduate levels and supervise doctoral students in the Leonard Davis School and frequently oversee, qualified students from other USC schools and departments (e.g. Biological Sciences, Medicine, Engineering, Psychology, Sociology, Policy and Planning).
USC and the Leonard Davis School of Gerontology are committed to promoting inclusiveness and diversity, broadly defined, among our students, staff, and faculty. Thus, we seek candidates whose research, teaching, and /or service have prepared them to help us fulfill this commitment.
Qualified applicants should submit a cover letter, C.V., and research and teaching statements. Candidates referred for further consideration will be asked to submit supporting materials (e.g., three current letters of reference). Review of applications will begin October 1, 2022, and will continue until the position is filled. Women and racial/ethnic minorities are especially encouraged to apply.
This is an open-rank search for Tenure/Tenured Track faculty. The annual base salary ranges (for 9 months) are listed below and in accordance to rank.
Assistant Professor $100,000-$130,000.
Associate Professor $120,000-$220,000
Professor $155,000-$325,000
When extending an offer of employment, the University of Southern California considers factors such as (but not limited to) the scope and responsibilities of the position, the candidate's work experience, education/training, key skills, internal peer equity, federal, state and local laws, contractual stipulations, grant funding, as well as external market and organizational considerations.
USC is an equal opportunity, affirmative action employer. All qualified applicants will receive consideration for employment without regard to race, color, religion, sex, sexual orientation, gender identity, national origin, protected veteran status, disability, or any other characteristic protected by law or USC policy. USC will consider for employment all qualified applicants with criminal histories in a manner consistent with the requirements of the Los Angeles Fair Chance Initiative for Hiring ordinance.
REQ20102120 Posted Date: 12/18/2022
Apply