Faculty
"The University of Southern California is committed to excellence in teaching through strategies that foster the knowledge, skills, relationships, and values necessary for students to make real contributions in a rapidly changing world. USC is an equitable and diverse research university, and we recognize the many ways inclusivity strengthens our campus community. Our superb faculty have the exceptional responsibilities of creating new knowledge and instructing and guiding our passionate, hardworking student body" –Elizabeth Graddy, Executive Vice Provost for Academic Affairs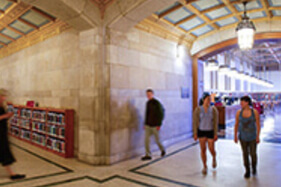 Full-Time Teaching-Track or Practice-Track Faculty Position in Environmental Studies
Apply
Dornsife College of Letters, Arts and Sciences
Faculty
Los Angeles, California
The Environmental Studies Program in the Dana and David Dornsife College of Letters, Arts and Sciences at the University of Southern California (USC) in Los Angeles, California, seeks to hire an outstanding faculty member to fill a full-time teaching-track or practice-track faculty position beginning in August 2023 (open rank: Lecturer, Assistant Professor (Teaching), Associate Professor (Teaching), Professor (Teaching), Assistant Professor of the Practice, Associate Professor of the Practice, Professor of the Practice). The Environmental Studies Program is an interdisciplinary program that aims to educate the next generation of environmental leaders and focuses primarily on undergraduate degree programs, with a small number of students enrolled our Master's programs.
We are looking for a candidate with broad training in the environmental natural sciences, with expertise in one or more of the following area(s): water system infrastructure, quality, treatment, conservation and/or the water energy nexus; food systems impacts on ecosystems and energy systems; terrestrial agriculture and soils; terrestrial community ecology and ecological responses to climate change; or renewable energy technologies. 
This position is a full-time teaching position with a workload profile of teaching (80%) and service (20%), which typically amounts to 5 classes per academic year (20 units total). As such, the desirable candidate will have an established record of excellence in undergraduate teaching. We particularly seek a candidate who will teach our natural science core courses: Water & Soil Sustainability and Energy & Air Sustainability, as well as Intro to Environmental Studies, and a capstone seminar course targeted towards seniors enrolled in the Environmental Studies Program. The faculty member will also have the opportunity to develop a freshman general education seminar and/or an upper division elective in their area of expertise. The use of experiential learning in pedagogy is highly valued, as our program has a history of providing courses and experiences that go beyond the classroom to incorporate field- and/or laboratory-based learning experiences.
The successful candidate will join a multidisciplinary program that is part of the Wrigley Institute for Environmental Studies. USC is located in the heart of Los Angeles, a large city that is committed to becoming a leader in sustainability and is also a diverse urban center that faces equity, environmental and economic challenges common to megacities globally. Sustainability is also a key priority for USC, and as such the university provides numerous opportunities to engage in impactful environmental and sustainability teaching, research and service at the local level, while also having a global impact via a large, diverse, and international student body. 
USC has a well-defined teaching track with potential for promotion based on teaching and service excellence and provides competitive salary and benefits.  Additionally, the Environmental Studies Program has an established mentoring program to support the successful merit review and promotion of its teaching faculty. While the position is a teaching position, those with demonstrated excellence and effectiveness in the practice of a field of expertise may be hired under the Practice track. Appointments are fixed-term with the possibility of renewal contingent on need and performance review by the program faculty, the program Director, and Dean.  
Minimum Qualifications: Ph.D. from an accredited institution in an environmental natural science discipline of relevance to areas of research and expertise listed above or equivalent experience in the appropriate field of study.
In order to be considered for this position, all candidates must apply via the "Apply" link at the top or bottom of this page.  Please include the following materials:
CV
Cover letter
Teaching statement
Statement on contributions to Justice, Diversity, Equity, and Inclusion
Evidence of teaching excellence
Names and contact information of three references. Letters will be requested after initial review of candidates
The application portal will remain open until the position is filled, but review of applications will begin December 1.
The annual base salary range for this position is $72,000 - $83,300. When extending an offer of employment, the University of Southern California considers factors such as (but not limited to) the scope and responsibilities of the position, the candidate's work experience, education/training, key skills, internal peer equity, federal, state and local laws, contractual stipulations, grant funding, as well as external market and organizational considerations.
USC is an equal-opportunity educator and employer, proudly pluralistic and firmly committed to providing equal opportunity for outstanding persons of every race, gender, creed and background. The university particularly encourages members of underrepresented groups, veterans and individuals with disabilities to apply. USC will make reasonable accommodations for qualified individuals with known disabilities unless doing so would result in an undue hardship. Further information is available by contacting uschr@usc.edu.
REQ20125744 Posted Date: 01/18/2023
Apply