Faculty
"The University of Southern California is committed to excellence in teaching through strategies that foster the knowledge, skills, relationships, and values necessary for students to make real contributions in a rapidly changing world. USC is an equitable and diverse research university, and we recognize the many ways inclusivity strengthens our campus community. Our superb faculty have the exceptional responsibilities of creating new knowledge and instructing and guiding our passionate, hardworking student body" –Elizabeth Graddy, Executive Vice Provost for Academic Affairs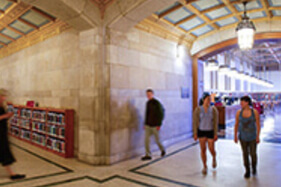 Instructor of Research Otolaryngology Head and Neck Surgery
Apply
Keck School of Medicine
Faculty
Los Angeles, California
The University of Southern California (USC), founded in 1880, is the largest private employer in the City of Los Angeles. As an employee of USC, you will be a part of a world-class research university and a member of the "Trojan Family," which is comprised of the faculty, students and staff that make the university what it is.
The USC Caruso Department of Otolaryngology-Head and Neck Surgery seeks an outstanding scientist to join the department as Research Instructor at the Auditory Research Center. Requirements include (i) a Ph.D. in Electrical Engineering, Physics, Neurobiology, or related fields; (ii) at least three years postdoctoral training; (iii) a strong publication record in peer-reviewed scholarly journals; and (iv) external grant support (e.g., an NIH R21 or equivalent) sufficient to cover at least 75% of salary for two years from the date of hire.  All applicants who meet these minimum requirements will be considered. This is a fixed term appointment for 2 years.
Our institution offers tremendous clinical, research, educational opportunities and we want our faculty to take advantage of them. Therefore, our department prioritizes mentoring and teamwork as ways to help faculty develop within a friendly, non-judgmental, and inquisitive environment. Overall, we search for faculty members whose career goals include excellence in research and teaching.
Apply here and upload curriculum vitae and letter of inquiry. Review of applications will continue until the position is filled.
The University of Southern California strongly values diversity and is committed to equal opportunity in employment.  Women and men, and members of all racial and ethnic groups, people with disabilities, and veterans are encouraged to apply.
REQ20115423 Posted Date: 04/27/2022
Apply