Auxiliary Services
At USC Auxiliary Services, our mission is to create the best USC experience for our students, faculty, staff, visitors and community members, as we provide services across our six business units (Hospitality, Housing, Transportation, Bookstores, USC Hotel and the Los Angeles Memorial Coliseum). Auxiliary Services works diligently to welcome all visitors into the Trojan family and we are driven to succeed by our commitment to USC's core values. Our team is comprised of some of the very best people in our industries, with diverse backgrounds and experiences, who come together to provide the best products and best service for all Trojans.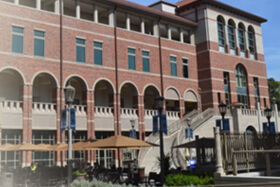 Kitchen Supervisor, Little Galen
Apply
Auxiliary Services
Auxiliary Services
Los Angeles, California
Please review the Affirmative Action and Equal Opportunity Planpage for more details regarding your rights and obligations as a job candidate.
USC Auxiliary Services, one of the largest divisions at The University of Southern California, is focused on making a difference for over 65,000 students, athletes, faculty, staff, and guests who visit our campuses each day.  Through our innovative services, our six central business units (USC Bookstores, USC Hospitality, USC Housing, USC Transportation, the USC Hotel and the Los Angeles Memorial Coliseum) collectively create the best USC experience for future leaders, scientists, filmmakers, engineers, and doctors alike. Auxiliary Services works tirelessly to welcome all visitors into the Trojan family. We are driven to succeed by our commitment to uphold our six unifying values in Integrity, Excellence, Well-Being, Open Communication, Accountability, and Diversity, Equity, and Inclusion.
We are seeking a Kitchen Supervisor to join our rapidly growing team.
The Opportunity:
Have experience leading a team providing excellence in customer service, meal quality, and dining experience? Then this is the job for you! The Kitchen Supervisor will bring enthusiasm, energy, passion, and dedication to our team of talented professionals. All aspects of our kitchen's daily operations, including food prep work, inventory control, staff management, and kitchen layout, will be under your purview. We take pride in our daily work and, as our supervisor, you will as well!
The Accountabilities:
Assign duties to staff on a daily and weekly basis using opening and closing checklists and/or weekly side work. Direct, guide, train, and motivate staff to achieve and meet the production and/or sales goals. Supervise staff to ensure they are following the standards set by USC Hospitality and the Health Department.

Conduct pre-shift meetings to provide all staff with day-to-day goals and expectations. Communicate changes from management to front line staff. Check out staff before they leave for the day to ensure they have properly completed all assigned tasks that fit their job description.

Maintain clear understanding of the Collective Bargaining Agreement. Ensure a safe work environment.

Ensure the cleanliness of the kitchen before, during, and after the shift according to the local health department regulations. Monitor equipment and make requests for repairs when necessary.

Participate in menu planning and recipe creation. Supervise and coordinate food preparation.

Ensure the par levels are correct and make adjustments based on volume. Check waste logs and adjust pars accordingly to control food cost. Conduct line checks and taste food to ensure quality

Ensure proper stocking of products. Take inventory on a daily/weekly/monthly basis. Order inventory and enter invoices into system.

Complete data entry for the cash office, financial report, and closing report. Enter daily sales into report and distribute to management.

Perform other related duties as assigned or requested. The University reserves the right to add or change duties at any time.
The Qualifiers:
Education: High School Diploma.

Experience: 1 year.

Experience in high-volume, full-service kitchen environment.

Knowledge of all kitchen equipment, small or large scale.

Experience supervising and/or leading other employees.

Demonstrated knowledge of pertinent local, federal, and state health and safety laws and regulations.

Ability to communicate effectively in English.
What We Prefer:
Specialized or technical training.

2 years of experience.

Experience training and developing employees.

Batch cooking, lead cook, and/or fine dining experience.

Batch cooking/catering experience.

Union experience.
The Trojan Family Rewards:
We pride ourselves in creating the BEST USC EXPERIENCE, and that begins with our employees! We offer a wide variety of benefits and programs that support our staff and their families. For more information please visit http://benefits.usc.edu.
This support advocates employee well-being. As members of the Trojan family, employees are connected by the traditions and history that make us proud to be Trojans!
As an equal opportunity employer, USC values and promotes diversity, equity and inclusion in the workplace. The work culture thrives on mutual respect, trust, and synergy amongst all of its members.
USC has great minds that transform the world with their talents and research. Will you be one? Join us!
FIGHT ON!
The hourly rate for this position is $21.57. When extending an offer of employment, the University of Southern California considers factors such as (but not limited to) the scope and responsibilities of the position, the candidate's work experience, education/training, key skills, internal peer equity, federal, state, and local laws, contractual stipulations, grant funding, as well as external market and organizational considerations.
Minimum Education: High school or equivalent Minimum Experience: 1 year Minimum Field of Expertise: One year experience within a high-volume, full-service kitchen environment. Knowledge of all kitchen equipment, small or large scale. Experience supervising and/or leading others performing similar duties. Demonstrated knowledge of pertinent local, federal and state health and safety laws and regulations.
REQ20126738 Posted Date: 01/22/2023
Apply