Faculty
"The University of Southern California is committed to excellence in teaching through strategies that foster the knowledge, skills, relationships, and values necessary for students to make real contributions in a rapidly changing world. USC is an equitable and diverse research university, and we recognize the many ways inclusivity strengthens our campus community. Our superb faculty have the exceptional responsibilities of creating new knowledge and instructing and guiding our passionate, hardworking student body" –Elizabeth Graddy, Executive Vice Provost for Academic Affairs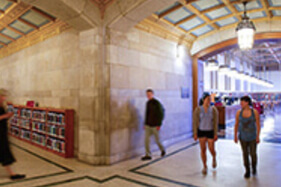 Newsroom Coach (Mandarin Speaker) in a Media Center Multiplatform
Apply
Annenberg School for Communication and Journalism
Faculty
Los Angeles, California
The Annenberg School of Journalism at the University of Southern California seeks a highly qualified adjunct instructor to be our Media Center Multiplatform Newsroom Coach (Mandarin speaker).

Description:
Work in a fast-paced news environment with journalism students in the Media Center at the Annenberg School for Communication and Journalism who are producing multiplatform content for Mandarin-language social media platforms. This position is primarily working with native Mandarin speakers working at their own pace to communicate and deliver news on WeChat, Little Red Book and other platforms used by many of USC's international students. The accounts for these platforms are representing the Annenberg Media newsroom. This position requires someone who is patient and nurturing to students who are still learning but who are eager to burnish their portfolios and gain hands-on experience in the newsroom. The ideal applicant has experience with creation of social media content and telling stories using video. The job begins as soon as possible and then will be 5 to 10 hours per week.

Job tasks:
Help students who are native Mandarin speakers as they create content representing the Annenberg Media newsroom on social media platforms.Support and guide students in identifying story ideas and managing deadlines.Work one-on-one with student reporters on story development, interviewing, writing, gathering video or audio, using ambient sound and b-roll, recording voice tracks or the final production of their stories.Offer first reads on digital stories, scripts or pitches and provide tips on how to make improvements.Act as a liaison between the student journalists and student producers or editors who will be responsible for publishing content through Annenberg Media's productions and platforms.Assess student work and interactions with an eye toward ensuring diversity, equity and inclusion in the newsroom at all times.Assist students in producing multimedia elements for stories.Guide students in distributing content through social media and other means.Provide consultation on legal, ethical and usage questions. Conduct workshops for students if needed.

Qualifications:
Degree required: BA or BSMandarin speaker or multilingual At least five years of journalism or content experience.
Digital, social and multimedia experience preferred.
Applicants should submit a cover letter, addressed to Professor Christina Bellantoni, Director of the Annenberg Media Center, describing their background, interests and areas of expertise, and an up-to-date resume or curriculum vitae through USC's job site.
Applicants should have a primary career elsewhere.

The USC Annenberg School for Communication and Journalism is among the nation's leading institutions devoted to the study of communication, journalism and public relations.  With an enrollment of 2,400 undergraduate and graduate students, USC Annenberg scholars, both students and faculty, are defining these fields for the 21st century and beyond.
REQ20125786 Posted Date: 10/27/2022
Apply