Keck Medicine of USC
Keck Medicine of USC is one of only two university-based medical systems in the Los Angeles area. Its internationally renowned physicians and scientists provide world-class patient care at Keck Hospital of USC, USC Norris Cancer Hospital, USC Verdugo Hills Hospital and more than 80 outpatient clinics in Los Angeles, Orange, Kern, Tulare and Ventura counties.
Keck Medical Center was ranked No. 16 on U.S. News & World Report's 2019-20 Best Hospital Honor Roll and among the top 3 hospitals in Los Angeles and top 5 in California. The hospital also ranked in the top 4 in urology (tie); top 10 in geriatrics; top 15 in ophthalmology, cardiology & heart surgery, gastroenterology & GI surgery and nephrology; top 20 in neurology & neurosurgery; top 25 in cancer; and top 35 in pulmonology & lung surgery.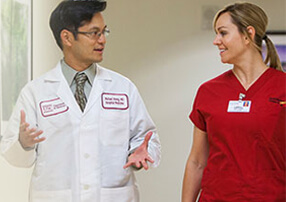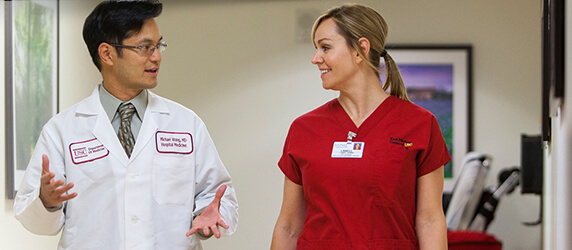 Nuclear Medicine Tech - CVTI Diagnostic - Per Diem 8 Hour Days (Non-Exempt) (Non-Union)
Apply
Keck Medicine of USC
Hospital
Los Angeles, California

As an integral part of the Imaging Services Team, the Nuclear Medicine Technologist provides support in the performance of high quality radionuclide imaging, therapeutic and lab procedures to assure optimum service and care to every patient. Provides related work as required.
Essential Duties: • Organizes, plans and directs activities relating to patients and procedures for their designated area. • Demonstrates knowledge of principles of physics, scanning technique, and computer science skills related to nuclear scanning. • Demonstrates complete working knowledge of nuclear imaging equipment and computer software necessary to perform studies. • Directly responsible for safe and efficient ordering, handling, preparation, administration and documentation of radioactive isotopes. • Performs, computes and calculates test results using appropriate tools necessary to produce specific statistical information. Procedures are planned and executed considering physiologic and developmental age. Serves ages infant through geriatric. • Reviews examination for proper positioning, technique and identification as per approved protocols. • Confirms patient identification using the appropriate hospital identifiers (name and date of birth). • Reviews patient questionnaire, doctor's order and requisition for physician notes and/or special instructions, reviews with radiologist and patient if necessary, to assure safety and appropriateness. • Recognizes emergency situations, indicate code and properly administer aid as needed. • Performs visual inspections, selects appropriate equipment and applies immobilization devices as required. • Practices sterile technique and prevents cross contamination to patient and instruments. • Records pertinent patient information and completes all paperwork as required and assists in maintaining files. Performs billing functions timely and accurately. • Administrates the preparation of reports and isotopes documentation (i.e. ordering, storage and disposal) as required by local, State and federal requirements and radiation safety officer's recommendations. • Prepares examination for interpretation by radiologist. • Keeps Nuclear Medicine rooms/work areas neat, orderly, and prepared and assures exam room is stocked with appropriate supplies. Assists with ordering and stocking of department supplies and equipment. • Willingly performs other related duties outside immediate work area as assigned or required (i.e., scheduling, Q.C. follow-up, transport, clerical). • Participates in after hours uncontrolled standby and call back. Position may require the use of a pager while on duty and while on stand by. • Performs other duties as assigned. Qualifications: • Req Specialized/technical training Satisfactory completion of an accredited Nuclear Medicine Technology program. • Pref 1 year Nuclear Medicine Technologist. • Req Proficient in Microsoft Office Software. Required Certifications: • Req Certified Nuclear Medicine Technologist - CNMT (NMTCB) • Req Certified Nuclear Medicine Technologist (CA DPH) • Req Basic Life Support (BLS) Healthcare Provider from American Heart Association • Req Fire Life Safety Training (LA City) If no card upon hire, one must be obtained within 30 days of hire and maintained by renewal before expiration date. (Required within LA City only) The hourly rate range for this position is $53.00 - $87.45. When extending an offer of employment, the University of Southern California considers factors such as (but not limited to) the scope and responsibilities of the position, the candidate's work experience, education/training, key skills, internal peer equity, federal, state, and local laws, contractual stipulations, grant funding, as well as external market and organizational considerations.
REQ20131432 Posted Date: 03/26/2023
Apply