Faculty
"The University of Southern California is committed to excellence in teaching through strategies that foster the knowledge, skills, relationships, and values necessary for students to make real contributions in a rapidly changing world. USC is an equitable and diverse research university, and we recognize the many ways inclusivity strengthens our campus community. Our superb faculty have the exceptional responsibilities of creating new knowledge and instructing and guiding our passionate, hardworking student body" –Elizabeth Graddy, Executive Vice Provost for Academic Affairs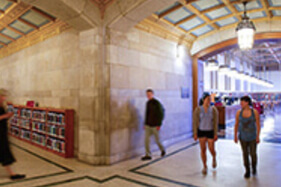 (Open Rank) Assistant, Associate, or Full Professor of Industrial and Systems Engineering
Apply
Viterbi School of Engineering
Faculty
Los Angeles, California
The University of Southern California, one of the nation's top research universities, invites applications for multiple tenured and tenure-track positions in the Daniel J. Epstein Department of Industrial and Systems Engineering in the USC Viterbi School of Engineering.  Multiple appointments can be made at the Assistant Professor, Associate Professor, and Professor ranks. Candidates at the senior rank must have demonstrated top-quality research excellence, eminent leadership, prominent reputation, and sustained commitment to the discipline and are expected to have a vibrant research program with external funding.  Exceptional senior candidates with the highest credentials may be considered for a chaired professorship.  The USC Viterbi School of Engineering is committed to increasing the diversity of its faculty and welcomes applications from women, individuals from racial/ethnic populations demographically underrepresented in engineering, veterans, and individuals with disabilities.
We invite applications from candidates with demonstrated excellence and commitment in Industrial and Systems Engineering (ISE).  Accomplished candidates with demonstrated expertise in the core ISE methodological areas (e.g., optimization, probability, simulation, statistics, and systems lifecycle analysis) and interest in solving important societal problems (e.g., in supply chain, transportation and logistics, healthcare, finance) are especially encouraged to apply.  Applications from candidates with expertise in data science, machine learning, and related areas are also strongly encouraged.
We seek energetic individuals who will participate in the department's and the university's research enterprise and engage with students at the undergraduate and graduate levels.  Successful candidates will establish a strong, externally funded, research program of national prominence while contributing to the core teaching mission of the ISE department.   An earned doctorate in Industrial and Systems Engineering or a closely related field is required. 
Positions are available starting August 16, 2023.  Candidates should apply at https://usccareers.usc.edu/job/los-angeles/open-rank-professor-of-industrial-and-systems-engineering/1209/13628173. Application materials must include a cover letter, a curriculum vitae, statements of research and teaching interests (each up to 2 pages) and contact information for three references. Applicants are encouraged to include a succinct statement on fostering an environment of diversity and inclusion.  To receive full consideration, all materials should be received by December 7, 2022; applications received after this deadline might not be considered. Candidates whose applications are received before October 10, 2022, may be considered for an interview at the INFORMS Annual Meeting.
The annual base salary range for the following faculty ranks in this posting are:
Assistant Professor: $110,000 - $130,000

Associate Professor: $130,000 - $160,000

Professor: $170,000 - $235,000
When extending an offer of employment, the University of Southern California considers factors such as (but not limited to) the scope of responsibilities of the position, the candidate's work experience, education/training, key skills, internal peer equity, federal, state and local laws, contractual stipulations, grant funding, as well as external market and organizational considerations.  
The USC Viterbi School of Engineering is among the top engineering schools in the world. It counts 189 full-time, tenure-track faculty members.  Faculty engage in interdisciplinary research through the School's research centers, including the Information Sciences Institute, the Department of Homeland Security's first University Center of Excellence (CREATE), the National Center for Metropolitan Transportation Research (METRANS), the Center for Artificial Intelligence in Society (CAIS), and the Center for Advanced Manufacturing (CAM). The School's research expenditures typically exceed $210 million annually.
USC is an equal opportunity, affirmative action employer. All qualified applicants will receive consideration for employment without regard to race, color, religion, sex, sexual orientation, gender identity, national origin, protected veteran status, disability, or any other characteristic protected by law or USC policy. USC will consider for employment all qualified applicants with criminal histories in a manner consistent with the requirements of the Los Angeles Fair Chance Initiative for Hiring ordinance.
.
REQ20123437 Posted Date: 12/15/2022
Apply
Staff jobs for current employees
Please visit the Career Worklet on the Workday Homepage and select "Find Jobs" to view USC Jobs.
(If you're not currently a USC employee, click here to view USC jobs)