Faculty
"The University of Southern California is committed to excellence in teaching through strategies that foster the knowledge, skills, relationships, and values necessary for students to make real contributions in a rapidly changing world. USC is an equitable and diverse research university, and we recognize the many ways inclusivity strengthens our campus community. Our superb faculty have the exceptional responsibilities of creating new knowledge and instructing and guiding our passionate, hardworking student body" –Elizabeth Graddy, Executive Vice Provost for Academic Affairs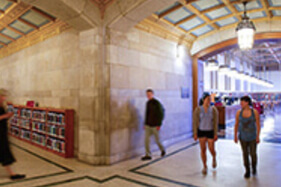 (Open Rank) Assistant or Associate Professor of Communication
Apply
Annenberg School for Communication and Journalism
Faculty
Los Angeles, California
The School of Communication at the USC Annenberg School for Communication and Journalism seeks to fill a tenure-track or tenured faculty position in Computational Communication Science with a focus on Artificial Intelligence. Outstanding applicants with established research programs on this general topic at the Assistant or Associate rank are encouraged to apply. 
The ideal candidate will have a Ph.D. in communication, social/behavioral science or related field such as information science and computer science, cutting-edge peer-reviewed research publications related to communication issues, and experience teaching at the undergraduate, master's and Ph.D. levels. We are looking for a scholar who primarily uses computational, behavioral, data science and/or other quantitative empirical methodologies central to the discipline of communication, and is committed to collaborating with colleagues who use qualitative, critical and other methods of inquiry. The scholarship should also have a strong theoretical focus and important societal and real-world applications, including outcomes for historically underserved groups.
Areas of specialization might include specific applications (e.g., voice recognition, computer vision, virtual reality, augmented or mixed reality, robots, intelligent agents, predictive policing and surveillance, "smart home," or financial algorithmic sorting);  ethics (e.g., morality of algorithm design and information systems, privacy); social justice and bias; deepfakes and trustworthiness; bots and social engineering of communication, societal impacts of AI (e.g. politics, the economy, health social media and communications, entertainment, virtual influencers, metaverse marketing, the workplace); or classic CMC approaches broadened to include Human-Computer Interaction (HCI) and Human-Robot Interaction (HRI).
Responsibilities
Responsibilities include producing high quality, cutting-edge academic scholarship; attracting external research funding; teaching at the undergraduate, master's and Ph.D. levels (in particular in our Communication Data Science master's program); Ph.D. student supervision; participating in administrative service; and fostering collaboration with other academic units across the University, and with external partners.  
About the Annenberg School for Communication and Journalism
The Annenberg School for Communication and Journalism at the University of Southern California is committed to fostering a culture and climate of tolerance, diversity and inclusion, as is evident in the Schools' various centers and initiatives (https://annenberg.usc.edu/research). Consequently, all qualified applicants, especially faculty whose backgrounds reflect our diverse student body, are encouraged to apply in accordance with the University's mission to ensure equal opportunity (see below).
The Annenberg School of Communication was established in 1971 with a gift from US Ambassador Walter Annenberg. It has grown over time to include programs in both Journalism and Communication, and now houses several important centers and initiatives (https://annenberg.usc.edu/research). The School has a long history of collaborating with other academic units, and with agencies off campus. Interdisciplinary work is highly valued and expected.  Noteworthy are our ties to other social sciences and neuroscience, the entertainment industry (e.g., via the Norman Lear Center), Cinema, Computer Science and Engineering, Keck Medical School, and Marshall School of Business. The School expanded in 2013 to include a second modern 85,000 square-foot building providing more space for public events, student work groups, and student-faculty meetings. The School of Communication has a combined undergraduate and graduate enrollment of over 2000 students. We have 29 tenured/tenure-line faculty and 28 Research, Teaching, Practice, and Clinical full-time faculty. Both our faculty and our 73 doctoral students represent diverse disciplinary backgrounds affording a rich intellectual environment.
Applicants
USC is an equal opportunity, affirmative action employer. All qualified applicants will receive consideration for employment without regard to race, color, religion, sex, sexual orientation, gender identity, national origin, protected veteran status, disability, or any other characteristic protected by law or USC policy.
To be considered for this position, all candidates must apply via the USC Employee Recruitment Services website. Submission materials should include a cover letter, curriculum vitae, relevant refereed publications (2 max) and the names of three references. Finalists will be asked to submit three (3) letters of recommendation. The cover letter should be addressed to School of Communication Faculty Search, Prof. Andrea Hollingshead, Annenberg School of Communication, University of Southern California, 3502 Watt Way, Suite 305, Los Angeles, CA 90089-0281. Materials submitted by regular mail will not be accepted. Review of applications will commence on October 17, 2022and continue until the position is filled or the search closed. 
Applicants may direct questions to Billie Shotlow at (shotlow@usc.edu) or (213-821-2718) regarding the application process. Questions about the position and candidate fit can be directed to the Search Committee Chair, Prof. Andrea Hollingshead at aholling@usc.edu.
We provide reasonable accommodations to applicants and employees with disabilities. Applicants with questions about access or requiring a reasonable accommodation for any part of the application or hiring process should contact USC Human Resources by phone at (213) 821-8100, or by email at uschr@usc.edu. Inquiries will be treated as confidential to the extent permitted by law.USC will consider for employment all qualified applicants with criminal histories in a manner consistent with the requirements of theLos Angeles Fair Chance Initiative for Hiring ordinance.
REQ20122924 Posted Date: 08/27/2022
Apply
Staff jobs for current employees
Please visit the Career Worklet on the Workday Homepage and select "Find Jobs" to view USC Jobs.
(If you're not currently a USC employee, click here to view USC jobs)