Faculty
"The University of Southern California is committed to excellence in teaching through strategies that foster the knowledge, skills, relationships, and values necessary for students to make real contributions in a rapidly changing world. USC is an equitable and diverse research university, and we recognize the many ways inclusivity strengthens our campus community. Our superb faculty have the exceptional responsibilities of creating new knowledge and instructing and guiding our passionate, hardworking student body" –Elizabeth Graddy, Executive Vice Provost for Academic Affairs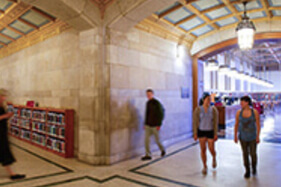 (Open Rank) Lecturer of Information Technology
Apply
Viterbi School of Engineering
Faculty
Los Angeles, California
The Viterbi School of Engineering (viterbischool.usc.edu) at the University of Southern California seeks outstanding faculty candidates for multiple full-time teaching-track positions. The ideal candidates would have the experience and knowledge necessary to teach undergraduate-level courses in one (or more) of the following fields:
Applied Analytics (data analytics & visualization; big data; databases; machine learning; AI)
Applied Computer Security (ethical hacking & system defense; web & network security)
Blockchain (digital assets; decentralized applications; smart contracts)
Digital Entrepreneurship (building high-tech startups; technologies for interactive marketing)
Digital Forensics (macOS & iOS forensics; mobile device forensics; cyber breach investigations)
Programming (intro. Python, C++, MATLAB; object-oriented programming; data structures)
Web Development (intro to web development; front-end, full-stack & back-end web dev.)
These are full-time, non-tenure track, benefits-eligible teaching positions. All candidates are expected to have a strong commitment to teaching. Faculty spend 80% of their time on teaching and teaching-related duties with the remaining 20% engaging in service to students, the program, the university, professional societies, and the broader community. We are seeking qualified candidates at all experience levels: new faculty typically start at the level of Lecturer, but qualified candidates with substantial teaching experience or relevant background may also be considered for a commensurate higher-ranked position such as Senior Lecturer, Associate Professor of Practice, or Professor of Practice.
We are seeking candidates who are committed to excellence in teaching and willing to contribute to engagement with and inclusion of students from a wide range of disciplines and cultural backgrounds. The USC Viterbi School of Engineering is committed to increasing the diversity of its faculty and welcomes applications from women and persons from racial/ethnic populations demographically underrepresented in STEM fields, veterans, and individuals with disabilities. The Viterbi School of Engineering wasrecentlyawarded the ASEE President's Award for its continuing efforts to "change the conversation" about engineering and developing nationally a robust and diverse engineering pipeline.
Applications must include a cover letter, curriculum vitae, teaching statement, names of at least three professional and/or teaching references, and a statement about fostering an inclusive environment in the classroom. We would like to fill these positions for Fall 2023 (starting August 16, 2023). To receive full consideration, all materials should be received by January 6, 2023, but early applications are highly encouraged; applications received after this deadline might not be considered.
These positions are in the Information Technology Program (ITP), an academic unit within the USC Viterbi School of Engineering. ITP (itp.usc.edu) is a unique and innovative program, providing technology education to students from all majors at the University. Its 17 full-time and over 30 part-time faculty have built a collaborative community who are passionate about teaching and seeing students succeed. ITP provides engineering education to thousands of students from many majors, helping to guide students towards technical interests and career paths. The program offers courses in areas including: artificial intelligence applications; applied analytics; blockchain; cloud computing; connected devices and making; cybersecurity and digital forensics; digital entrepreneurship; enterprise information systems; programming; video game production and programming, 3D computer graphics, and technical game art; and web and mobile development. Its award-winning faculty also work on initiatives such as increasing diversity in engineering, outreach to underserved communities, accessibility in technology, and technology for social impact.
The USC Viterbi School of Engineering is among the top tier engineering schools in the world, with research expenditures typically exceeding $210 million annually. It is home to institutions such as the Information Sciences Institute, two National Science Foundation Engineering Research Centers, and the Department of Homeland Security's first University Center of Excellence, CREATE. The school is also affiliated with the Institute for Creative Technologies and the USC Stevens Center for Innovation.
USC is committed to a vibrant and healthy work environment, beingconsistentlyhonoredas a "Great College to Work For" by the Chronicle of Higher Education. In addition to health, vision, and dental plans for employees, spouses / partners, and dependents, USC also provides services such as theCenterforWorkandFamilyLife, access tochildcare, and theMindfulness program, as well as cultural events such asVisionandVoices. Deeply connected to the surrounding community, USC partners with local initiatives and encourages faculty to participate through programs such asGoodNeighbors andCS@SC.
USC is an equal opportunity, affirmative action employer. All qualified applicants will receive consideration for employment without regard to race, color, religion, sex, sexual orientation, gender identity, national origin, protected veteran status, disability, or any other characteristic protected by law or USC policy. USC will consider for employment all qualified applicants with criminal histories in a manner consistent with the requirements of the Los Angeles Fair Chance Initiative for Hiring ordinance.
For further details, requirements, and to apply, please visit itp.usc.edu/jobs/.
Minimum Education
Bachelor's degree in a STEM-related or industry-related field
Preferred Education
Ph.D., Ed.D., or equivalent advanced degree in a STEM-related or industry-related field
Minimum Experience
For candidates with a Bachelor's degree: four years of industry and/or teaching experience
For candidates with a Master's degree: two years of industry and/or teaching experience

Candidates with, or expecting, a doctoral degree (PhD, Ed.D. or equivalent): demonstrated teaching experience
Preferred Experience
Five years of relevant industry and/or teaching experience
Prior teaching experience at the university level
Required Documents
Cover letter
Curriculum vitae
Teaching statement
Names and contact information of three professional/teaching references
Statement about fostering an inclusive environment in the classroom
.
REQ20126471 Posted Date: 11/17/2022
Apply