Keck Medicine of USC
Keck Medicine of USC is one of only two university-based medical systems in the Los Angeles area. Its internationally renowned physicians and scientists provide world-class patient care at Keck Hospital of USC, USC Norris Cancer Hospital, USC Verdugo Hills Hospital and more than 80 outpatient clinics in Los Angeles, Orange, Kern, Tulare and Ventura counties.
Keck Medical Center was ranked No. 16 on U.S. News & World Report's 2019-20 Best Hospital Honor Roll and among the top 3 hospitals in Los Angeles and top 5 in California. The hospital also ranked in the top 4 in urology (tie); top 10 in geriatrics; top 15 in ophthalmology, cardiology & heart surgery, gastroenterology & GI surgery and nephrology; top 20 in neurology & neurosurgery; top 25 in cancer; and top 35 in pulmonology & lung surgery.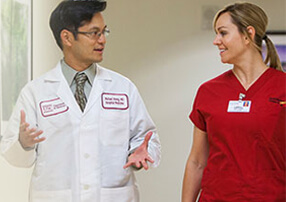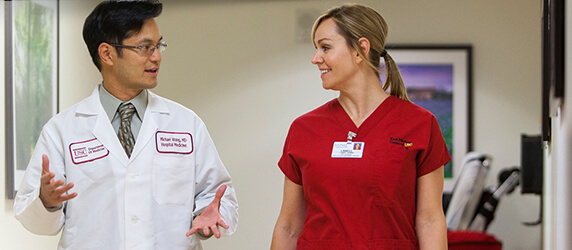 OR RN - Surgery - Full Time 10 Hour Days (Non-Exempt) (Union)
Apply
Keck Medicine of USC
Hospital
Los Angeles, California
As an integral part of the interdisciplinary team, the Registered Nurse utilizes the nursing process to provide therapeutic care to a specific population of patients.  The perioperative registered nurse uses the nursing process, designs, coordinates, and delivers care to meet the identified needs of all patients during perioperative phase.  Perioperative nurses possess and apply knowledge of procedure and patient's intraoperative experience throughout the patient care continuum.  Perioperative nurse assesses, diagnoses, plans, intervenes and evaluates the outcome of interventions based on criteria that criteria that support a standard of care.  Perioperative nurse addresses the impact of the surgical experience on the patient'123s physiological, psychological, sociocultural and spiritual responses.  Perioperative nursing role and activities performed during the preoperative, intraoperative and postoperative phases of the patient's surgical intervention.  Perioperative nursing includes, but is not limited to:  Peer education and patient/family teaching; support and reassurance; advocacy; control of environment; efficient provision of resources; maintenance of asepsis; monitoring physiological and psychological status; management aggregate patient needs; supervision of ancillary personnel; preoperative exploration, validation of current and future practices; integration and coordination of care across settings and among disciplines, collaboration and consultation.
The hourly rate range for this position is $41.00 - $88.00. When extending an offer of employment, the University of Southern California considers factors such as (but not limited to) the scope and responsibilities of the position, the candidate's work experience, education/training, key skills, internal peer equity, federal, state, and local laws, contractual stipulations, grant funding, as well as external market and organizational considerations.
Minimum Education: • Bachelor's Degree in Nursing (BSN) Minimum Experience/Knowledge: • One year as an operating room nurse in an acute care setting immediately prior to application. Required License/Certification: • Valid California Registered Nursing license • BLS for Healthcare Provider from American Heart Association. • ACLS Preferred • Fire and Safety Certification. If no card upon hire, one must be obtained within 30 days of hire, and maintained by renewal before expiration date.
REQ20123816 Posted Date: 12/21/2022
Apply