Faculty
"The University of Southern California is committed to excellence in teaching through strategies that foster the knowledge, skills, relationships, and values necessary for students to make real contributions in a rapidly changing world. USC is an equitable and diverse research university, and we recognize the many ways inclusivity strengthens our campus community. Our superb faculty have the exceptional responsibilities of creating new knowledge and instructing and guiding our passionate, hardworking student body" –Elizabeth Graddy, Executive Vice Provost for Academic Affairs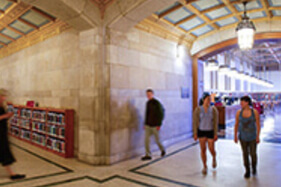 Part-Time Lecturer of Population and Public Health Sciences
Apply
Keck School of Medicine
Faculty
Los Angeles, California
The University of Southern California (USC), founded in 1880, is the largest private employer in the City of Los Angeles. As an employee of USC, you will be a part of a world-class research university and a member of the "Trojan Family," which is comprised of the faculty, students and staff that make the university what it is.
Part Time Instructor in the Department of Population and Public Health Sciences, Master of Public Health (MPH-on campus and online), and bachelor's in health Promotions (HP on campus, University of Southern California.
The HP and MPH Programs (on campus and online) seeks faculty candidates at the instructor level, non-tenure track (part-time). The candidate should have a Ph.D. or Dr.P.H. in population and public health sciences, public health, or a closely related discipline from an accredited institution. Prior teaching experience at the graduate level is required, and experience in online teaching is preferred. Expertise in one or more of the following areas is highly desired: Health policy, healthcare management, community health services, social determinants of health and health disparities. In addition to a track record in teaching at the graduate level, the candidate should have publications in peer-reviewed journals and knowledge of statistical software.
Potential candidates are encouraged to submit their applications (along with current CV, statement of teaching interests, and two or more letters of recommendation) to: Roberta McKean-Cowdin, PhD, University of Southern California, via e-mail to mckeanco@usc.edu. 
The University of Southern California strongly values diversity and is committed to equal opportunity in employment.  Women and men, and members of all racial and ethnic groups, people with disabilities, and veterans are encouraged to apply.
REQ20126030 Posted Date: 11/06/2022
Apply