Let's change the world together!
USC is a leading private research university located in Los Angeles – a global center for arts, technology and international business. As one of the city's largest private employers, responsible for more than $8 billion annually in economic activity in the region, we offer the opportunity to work in a dynamic and diverse environment, in careers that span a broad spectrum of talents and skills across a variety of academic schools and units. As a USC employee, you will enjoy excellent benefits and perks, and you will be a member of the Trojan Family - the faculty, staff, students and alumni who make USC a great place to work. Think you've got what it takes to join us? We invite you to search our open positions and apply!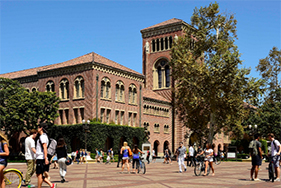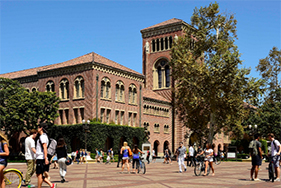 Postdoctoral Research Associate
Apply
Dworak-Peck School of Social Work
Los Angeles, California
The USC Suzanne Dworak-Peck School of Social Work is seeking a Postdoctoral Scholar – Research Associate to join the interdisciplinary research team of Dr. Daniel A. Hackman.  This position is an excellent research opportunity for those with expertise and/or interest in developmental cognitive and affective neuroscience, psychology, public and environmental health, social determinants of health, education policy, social work, and biostatistics.  The postdoctoral scholar will be working on an NICHD funded study of the role of neighborhoods in brain development, cognition, and emotion across adolescence; vulnerability to the COVID-19 pandemic and school-related changes; and the factors that may protect against adversity and foster resilience.  The position involves analysis of longitudinal data from a large nationwide sample utilizing multi-modal structural and functional neuroimaging data as well as data on behavior, neighborhood characteristics, educational environments, and family contexts.  The postdoctoral scholar will be under the primary mentorship of Dr. Hackman, and the position will provide excellent training and experience in interdisciplinary, developmental research that incorporates cognitive and affective neuroscience, social and environmental contexts, and more.  The candidate will also have the opportunity to collaborate with and learn from the wider research team at USC, CHLA, Columbia University, and Dartmouth College. 
The candidate will contribute to meeting all aims of the study.  The candidate will manage data, conduct statistical analyses, and interpret and communicate findings, with specific focus on longitudinal multi-level modeling and/or other advanced analytic methods.  Writing manuscripts to communicate results both as lead- and as co-author is essential to the position, and the candidate will also present at conferences and contribute to conference presentations.  Strong candidates will capitalize on the opportunity to lead analyses and manuscripts relevant to their research interests.  There will also be opportunities to learn or stay informed of developments and innovations in the relevant research literature.  The candidate will participate in team meetings; assist with grant administration and management; potentially supervise others on the project, such as graduate and undergraduate students; and contribute to other related duties as assigned or requested.
Preferred qualifications
PhD in psychology, neuroscience, education, public health, sociology, social work, or related fields.
Demonstrated interest and/or experience in theory and methodology in fields/topics such as developmental cognitive and effective neuroscience, neuroimaging, developmental psychology, neighborhood effects, life course/adolescent development, social determinants of health, educational environments, and/or neuroimaging.
Strong computational and quantitative background with advanced analytic techniques, such as linear mixed effects modeling, fixed effect regression, structural equation modeling, and/or additional advanced modeling techniques for large, longitudinal datasets.
Skilled in programming, coding and statistical analyses using R and other programs such as SAS, Mplus, etc
Excellent record of peer-reviewed, scientific publications
Highly motivated and exemplary ability to work independently and collaborate in teams
Excellent written and oral communication skills, strong interpersonal skills
The annual rate range for this position is $64,480 - $66,000. When extending an offer of employment, the University of Southern California considers factors such as (but not limited to) the scope and responsibilities of the position, the candidate's work experience, education/training, key skills, internal peer equity, federal, state, and local laws, contractual stipulations, grant funding, as well as external market and organizational considerations.
This position is fixed-term, 100% grant-funded.
Job Application Requirements:
CV
Cover letter with a statement of research interests
Contact information for 3 references
USC Suzanne Dworak-Peck School of Social Work
The mission of the USC Suzanne Dworak-Peck School of Social Work is to improve the well-being of vulnerable individuals and communities, advance social and economic justice, and eradicate pressing societal problems in complex and culturally diverse urban environments throughout Southern California, the nation and the world. Our mission is achieved through value-driven, scholarly, and creative social work education, research, and professional leadership.
Job Qualifications:
Minimum Education: Ph.D. or equivalent doctorate within the previous five years.
The candidate should not have more than a cumulative 5 years of previous postdoc experience and must be within 5 years of their terminal degree.
#LI-NL1
Minimum Education: Ph.D. or equivalent doctorate within previous five years Minimum Experience: 0-1 year Minimum Field of Expertise: Directly related education in research specialization with advanced knowledge of equipment, procedures and analysis methods. Preferred Field of Expertise: Publications in peer-reviewed journals in the same or related field
REQ20131272 Posted Date: 09/24/2023
Apply