Faculty
"The University of Southern California is committed to excellence in teaching through strategies that foster the knowledge, skills, relationships, and values necessary for students to make real contributions in a rapidly changing world. USC is an equitable and diverse research university, and we recognize the many ways inclusivity strengthens our campus community. Our superb faculty have the exceptional responsibilities of creating new knowledge and instructing and guiding our passionate, hardworking student body" –Elizabeth Graddy, Executive Vice Provost for Academic Affairs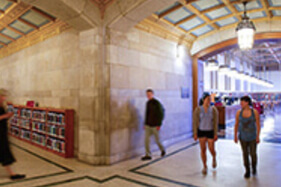 Professor of Lawyering Skills & Director of Academic Success Program (OPEN RANK)
Apply
Gould School of Law
Faculty
Los Angeles, California
USC Gould School of Law seeks applications for a full-time Professor of Lawyering Skills, who will serve as the Director of the Academic Success Program (ASP). The position will begin in the spring of 2023. This position is an open rank, meaning that we may hire a full or associate professor depending on experience. Professor of Lawyering Skills is a year-round Research, Teaching, Practitioner, or Clinical (RTPC) faculty position. RTPC positions are non-tenure track positions. Gould anticipates making final hiring decisions by February of 2023.
The Academic Success Program
The mission of the law school's ASP is to ensure that all JD students have the support they need to succeed academically and be prepared for the legal profession. The program has a Director and Assistant Director.  The Director reviews the program regularly and modifies it, in collaboration with the Dean and the faculty, to ensure that it continues to offer services and support that meet the needs of our students and address the current requirements and demands of the continually evolving legal profession.
Coursework
In the spring of the first year, ASP offers a one-credit course, Topics in Legal Analysis, for invited JD students who want to improve their analytical and exam-taking skills. Topics comprises three sections, one for each 1L supersection, and typically enrolls up to 30 students total (around 10 per supersection). Students who take the course practice outlining legal concepts in 1L courses and writing essay-exam questions that call for an analysis of legal issues raised by a hypothetical fact pattern. The program also offers a two-credit course, Legal Analysis of Evidence, to a segment of JD students during the fall of their second year. Legal Analysis of Evidence typically enrolls between 20 and 30 students and analyzes the rules of Evidence using weekly problems, multiple-choice questions, and essay exams designed to improve analytic skills and problem-solving.
Counseling
Upper-division students in ASP receive one-on-one academic counseling to help them achieve academic success, success on the bar exam, and success in the practice of law. 
Other Programming
ASP also offers a full range of programming for 1Ls, including workshops about academic skills and a simulated practice exam. ASP also organizes and leads Gould Preview, a pre-orientation program designed to provide additional transitional support to a segment of incoming 1Ls (see https://gould.usc.edu/about/news/?id=5002). Gould Preview takes place two weeks before fall classes begin and requires planning and preparation during the summer. 
The Director Role
The Director is the faculty member responsible for overseeing ASP. The responsibilities of the position include the following.
Program Development 
The Director is expected to keep abreast of developments in ASP pedagogy and bring fresh ideas to the program with the goal of optimizing the program and its offerings. To serve this goal, the Director must continually assess the ASP curriculum and programming and modify it as needed. 
The Director is also expected to stay abreast of efforts to modify the California Bar Exam and the Uniform Bar Examination (UBE) to ensure that ASP is prepared to address any changes.
Program Supervision
The Director oversees and mentors the ASP Assistant Director, a faculty member who also supports the program by teaching Topics in Legal Analysis and other ASP courses, counseling students in ASP, and assisting with ASP programming. The Director also hires, trains, and supervises the Academic Success Fellows, upper-division students who mentor first-year students. 
Teaching
The Director is responsible for teaching Legal Analysis of Evidence in the fall semester. Although Legal Analysis of Evidence is a two-unit course, it meets for 150 minutes a week to give students time to write practice exams in class. Teaching the course involves giving regular feedback on the students' written work. The Director is also expected to teach one additional three-unit spring course (whether in the ASP program or not). 
Counseling
The Director meets regularly with students and counsels them regarding academic, analytical, and study skills, as well as course selection and preparation for the Bar Exam. 
Programming
The Director is responsible for developing and running ASP programming, including 1L workshops and practice-exam sessions. The Director is also responsible for organizing and running the Gould Preview program and supporting other 1L orientation activities. 
Collaborating with Others Who Support Students
The Director collaborates with the Dean of Students and the first-year faculty to identify students in need of academic support and other resources. The Director also communicates regularly with the Registrar's office concerning academic scheduling issues that arise in student counseling sessions. 
Participating as a Faculty Member
The Director participates in committee work and other service activities expected of Gould faculty. 
Requirements:
A J.D. degree from an ABA-accredited law school, prior law teaching experience, substantial experience in academic support or teaching legal writing, and familiarity with academic support pedagogy.   
The Director must have a keen interest in academic support and bring energy and innovation to the program. The Director must also have excellent oral and written communication skills with strong attention to detail; excellent writing and editing abilities; sound legal skills and knowledge; an affinity for counseling and mentoring students; strong people skills; cultural competency; strong public-speaking skills; and excellent time-management and organizational skills. The position requires the ability to establish and maintain cooperative working relationships within a diverse environment, including the ability to motivate and manage those who teach in ASP and work productively with others at the law school who support students. Relevant teaching experience (e.g., legal writing) and experience as a practicing attorney are strongly preferred. 
Compensation and Benefits:
The University of Southern California offers a competitive salary within an academic environment based on the candidate's experience and accomplishments. The university also offers excellent benefits, described here: https://employees.usc.edu/full-time-faculty-staff/ 
Applying for this Position:
Please submit a CV/resume, statement of interest, one or more sets of sample teaching evaluations, and names and contact information for three references. Applications should also include a succinct statement on fostering an environment of diversity and inclusion. 
Applicants are encouraged to include in their statement of interest their own vision for ASP. 
Equity, diversity, inclusion, opportunity, and access are of central importance to the Gould School of Law. Gould holds a unique position in society, and within the university, as every aspect of these principles are influenced by and can be protected through legal rules and institutions. At Gould, we are proudly committed to maintaining a community in which each person respects the rights of others to live, work, and learn in peace and dignity, to be proud of who and what they are, and to have equal opportunity to realize their full potential as individuals and members of society.
REQ20124630 Posted Date: 09/28/2022
Apply