Keck Medicine of USC
Keck Medicine of USC is one of only two university-based medical systems in the Los Angeles area. Its internationally renowned physicians and scientists provide world-class patient care at Keck Hospital of USC, USC Norris Cancer Hospital, USC Verdugo Hills Hospital and more than 80 outpatient clinics in Los Angeles, Orange, Kern, Tulare and Ventura counties.
Keck Medical Center was ranked No. 16 on U.S. News & World Report's 2019-20 Best Hospital Honor Roll and among the top 3 hospitals in Los Angeles and top 5 in California. The hospital also ranked in the top 4 in urology (tie); top 10 in geriatrics; top 15 in ophthalmology, cardiology & heart surgery, gastroenterology & GI surgery and nephrology; top 20 in neurology & neurosurgery; top 25 in cancer; and top 35 in pulmonology & lung surgery.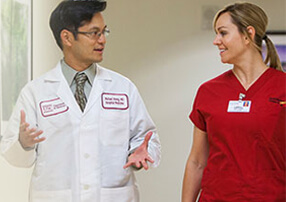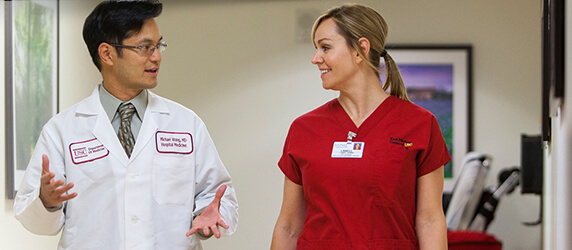 Program Manager, Bariatric Surgery - Bariatric Clinic - Full Time 8 Hour Days (Exempt) (Non-Union)
Apply
Keck Medicine of USC
Hospital
Los Angeles, California
Reporting to the Manager of Clinical Operations the Bariatric Surgery program manager is responsible for growth, planning, programming, development, for services, operations and patient experience related to the Bariatric Service Line, including transitions of care between the inpatient and outpatient services.
The Bariatric program manager is responsible for overseeing the development of the program in multiple areas.  These areas include the following:
1) increasing referral base by community outreach to physicians and dieticians.
2) Work with managed care team on payer relations
3) enhancing inpatient and outpatient team communication
4) collaborate with the marketing at KMC and development department at KOSM
5) improvement of family-centered care through integrative multidisciplinary approach.
The Program Manager (PM) works with the Surgical Director and Manager of Clinical Operations to define and achieve operational and goals for the USC Bariatric program and satellite clinics, aligned with institutional goals for each pillar of achievement.  The USC Bariatric program is built upon four pillars:  1) Patient Care; 2) Education; 3) Research; and 4) Community Outreach.  The PM will analyze data and information to increase access and growth, reduce costs, and create efficiencies within the multidisciplinary program. The PM engages in process improvement, program and system implementation, and facilitates projects with the multidisciplinary team across multiple specialties 
The PM works closely with the medical staff and management team to enable the successful development, delivery and growth of Bariatric Surgery. The PM actively works with USC Care Ambulatory leadership, department chairs, practice plan administrators and physician leaders to organize business intelligence needs to enable improved business performance.   Actively participates in problem solving patient issues by working through clinic personnel.  Actively engaged in business development opportunities, enhancing physician relations, and developing payer relationships.
Minimum Education: Required: Bachelor's Degree in a related field. • *If RN, Bachelor's Degree in Nursing (BSN) is required. Preferred: Master's in Business Administration, MHA or MPH related field preferred. Minimum Experience/Knowledge: Minimum 1-year clinical experience working in a healthcare operational environment, preferably Bariatric Surgery. Intermediate to advanced computer skills in Microsoft Office programs including Word, Excel, and PowerPoint Excellent analytical and organizational skills Excellent written and verbal communication skills, including presentations and negotiations Strong interpersonal skills to handle sensitive situations and confidential information Demonstrated poise, tact, diplomacy, and good judgment Ability to collaborate across departmental lines, establish and maintain strong relationships with internal and external customers. Self-starter, self-directed and driven to excellence in all aspects of role Able to make decisions effectively and with appropriate stakeholder input Client service oriented (both internal and external) Ability to multi-task and prioritize workload in a fast-paced environment Professional mannerisms, appearance, and executive presence Knowledge of relevant state and federal healthcare regulations Required License/Certification: Current and valid CA RN License OR Certification and/or Registration Registered Dietitian with the Commission on Dietetic Registration of the American Dietetic Association required. • *If RN: Current and valid CA RN License required • *If Dietitian: Certification or Registration Registered Dietitian with the Commission on Dietetic Registration of the American Dietetic Association required. Fire and Safety Certification. If no card upon hire, one must be obtained within 30 days of hire, and maintained by renewal before expiration date. (Required within LA City only)
REQ20114637 Posted Date: 03/24/2022
Apply