Let's change the world together!
USC is a leading private research university located in Los Angeles – a global center for arts, technology and international business. As the city's largest private employer, responsible for more than $8 billion annually in economic activity in the region, we offer the opportunity to work in a dynamic and diverse environment, in careers that span a broad spectrum of talents and skills across a variety of academic schools and units. As a USC employee, you will enjoy excellent benefits and perks, and you will be a member of the Trojan Family - the faculty, staff, students and alumni who make USC a great place to work. Think you've got what it takes to join us? We invite you to search our open positions and apply!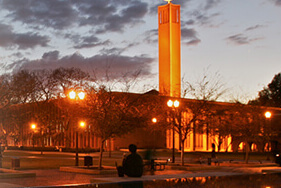 Programmer Analyst IV
Apply
Keck School of Medicine
Los Angeles, California
The USC Mark and Mary Stevens Neuroimaging and Informatics Institute and Laboratory of Neuro Imaging (INI, www.ini.usc.edu) are world leaders in the development of advanced computational and scientific approaches for the comprehensive mapping of brain structure and function. LONI's unique multidisciplinary environment and cutting edge resources allow for integration of clinical, psychological and genotypic information with neuroimaging phenotypes for research questions in neurology, psychiatry and developmental neurobiology.
The Laboratory of Neuro Imaging (www.loni.usc.edu), part of the USC Stevens Neuroimaging and Informatics Institute at the Keck School of Medicine of USC, is developing intuitive, interactive, and visual web applications for archiving, searching, displaying, and distributing complex neuroscience data.  We are looking for a senior-level programmer who will work in building an advanced neuroimaging data repository.  This individual must be proficient in JavaScript, HTML, CSS,  AJAX, and MySQL and have experience assessing project requirements, assigning and reviewing programming assignments, and fixing programming bugs. Experience in at least one other object-oriented language is required.
Preferred Qualifications:
Minimum Masters degree in Computer Science
Five years of progressive systems development experience
Knowledge of JavaScript, JavaScript libraries, jQuery, HTML/HTML5, and CSS 2/3
Knowledge of AJAX, XML, JSON
Knowledge of browser compatibility issues
Experience with MySQL, Tomcat, and Linux
Experience with at least one other object-oriented language like JAVA, Python
Good problem solving skills, interpersonal skills, and clear English communication
Ability to transform UI Mockups/design to code
Ability to work independently and effectively incorporate feedback
Ability to provide leadership and guidance to other programmers
Preferred but not required – experience with JAVA, JSP, Servlets
The annual base salary range for this position is $87,148.68 - $120,000.00. When extending an offer of employment, the University of Southern California considers factors such as (but not limited to) the scope and responsibilities of the position, the candidate's work experience, education/training, key skills, internal peer equity, federal, state, and local laws, contractual stipulations, grant funding, as well as external market and organizational considerations.
Minimum Education: Bachelor's degree, Combined work experience and education as equivalent Minimum Experience: 5 years Minimum Field of Expertise: Relevant work experience providing strong technical knowledge of programming and analysis, and senior or lead experience.
REQ20069813 Posted Date: 01/03/2023
Apply