Let's change the world together!
USC is a leading private research university located in Los Angeles – a global center for arts, technology and international business. As the city's largest private employer, responsible for more than $8 billion annually in economic activity in the region, we offer the opportunity to work in a dynamic and diverse environment, in careers that span a broad spectrum of talents and skills across a variety of academic schools and units. As a USC employee, you will enjoy excellent benefits and perks, and you will be a member of the Trojan Family - the faculty, staff, students and alumni who make USC a great place to work. Think you've got what it takes to join us? We invite you to search our open positions and apply!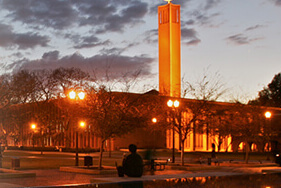 REQ20114987 Postdoctoral Research Associate – MxR Lab
Apply
ICT
Los Angeles, California
The Mixed Reality Lab (MxR) at the University of Southern California's Institute for Creative Technology (ICT) is searching for a Postdoctoral Research Associate to join our team as a creative research partner and mentee.  The seminal MxR Lab has been at the forefront of groundbreaking VR, AR and XR research for the last 12 years. Their human centered approach to immersive content development for training, education and health has produced award winning research and development. With ongoing projects focused on simulation, visualization, adaptive user-interfaces and user-experience design, the team seeks a highly motivated individual with expertise in multiple areas, including Human Computer Interaction, Human Factors, and Computer Science to help design formal user-studies and demonstrations, analyze complex data and produce relevant publications in peer-reviewed academic journals or conferences.
The Postdoc will work under the supervision of the Lab Director/principal investigator and will also be assigned an established faculty member to serve as a mentor. The Postdoc will work with the Director and faculty member/mentor to formalize an Individual Development Plan for the purpose of acquiring the professional skills needed to pursue a career path of his or her choosing.
Your work will push the boundaries of how technology benefits society, by researching user experiences and interfaces to improve training, accelerate learning, enhance communication, and by sharing scientific findings with the world. Additionally, the work at ICT will give you the opportunity to meet and work with intriguing people from all walks of life, including technologists, designers, writers, producers, social scientists, military/government personnel, community partners, and philanthropists.
ICT employees are encouraged to develop themselves both professionally and personally, through workshops, invited guest talks, movie nights, social events, various sports teams, a private gym and a personal trainer.  The atmosphere at ICT is informal and flexible, while also encouraging initiative, personal responsibility, and a strong work ethic. We put a premium on satisfaction in the workplace at ICT and encourage all associates to maintain a quality work-life balance.
This is a one year fixed-term appointment and renewable on the recommendation of the faculty mentor. 
Job Accountabilities:
Serves as a research trainee for the purpose of enhancing user interfaces and experiences to improve training, accelerate learning, enhance communication.
Identifies, researches, compiles and evaluates data sources, background information and/or technology related to area of specialization.
Contributes to the design of user studies and assists with conducting experiments.
Engages in data analytics, interpretation and presentation.
Suggests novel aspects for research.
Contributes significantly to authoring research publications, reports and proposals.
Investigates optimization of simulation-based training; how to design, implement and evaluate training & development systems, and in generating evidence-based guidance for those in practice.
Preferred Experience/Skills:
Solid knowledge of the field of human-computer interaction, experimental design, observational and field methods, and data analysis is required.
Independent execution of UX Research Phases: Study Design, Study Prep, Recruiting, Moderating, Analysis, Reporting (with minimal support).
Provide human factors services, to include design, prototyping, surveys/interviews, heuristic evaluation, tool assessments, and usability testing of human-computer interfaces.
Interface with design engineers to establish system design, operating, and training requirements and to ensure optimized human-machine interfaces.
Proactively work with research scientists, designers, engineers and PMs to identify research questions that can yield actionable insights for the team
Design quantitative and qualitative user studies to evaluate the usability and efficacy of user experience and interfaces and formulate insights
Plan and execute research that collects and analyzes objective and subjective measures of next-gen hardware experiences to inform the direction of interactions and strategies
Collaborate cross-functionally with design, engineering and product development groups
Knowledgeable about IRB processes and requirements for human subject testing. Able to document, submit for IRB approval and execute studies.
Publications in peer-reviewed journals in same or related field
Strong aptitude for learning new technologies.
Excellent written, oral, and presentation communication skills are required; English is the language in which we do business.
Project Management abilities: manages own schedule independently, manages multiple projects/tasks effectively, verifies and monitors scope of work.
Preferred Education/Field of Expertise:
Ph.D. degree in HCI/Human Factors and Computer Science
USC Institute for Creative Technologies: The University of Southern California's Institute for Creative Technologies is where academia, entertainment, and the military meet. Located in the heart of Silicon Beach/Playa Vista, no other institute offers a more diverse collaborative environment where basic and applied research work hand in hand to develop cutting edge technologies. We find ICT to be an exciting place to work and expect you will too. We are world leaders in virtual human research, artificial intelligence, virtual and augmented reality, computer training simulations, computer graphics, and immersive experiences that improve human decision making, cultural awareness, leadership, and health.
The University of Southern California, founded in 1880, is the largest private employer in the City of Los Angeles. The Institute for Creative Technologies (ICT) is an off campus research facility located in the westside Los Angeles neighborhood of Playa Vista, in close proximity to the ocean and the Silicon Beach tech sector.
The annual base salary range for this position is $75,000-$90,000. When extending an offer of employment, the University of Southern California considers factors such as (but not limited to) the scope and responsibilities of the position, the candidate's work experience, education/training, key skills, internal peer equity, federal, state, and local laws, contractual stipulations, grant funding, as well as external market and organizational considerations.
Please include your CV, cover letter, and research statement with your application
Minimum education: Ph.D. or equivalent doctorate within previous three years Minimum experience: 0-1 year Minimum field of expertise Preferred field of expertise: Directly related education in research specialization with advanced knowledge of equipment, procedures and analysis methods.
REQ20124597 Posted Date: 12/15/2022
Apply