Keck Medicine of USC
Keck Medicine of USC is the University of Southern California's medical enterprise, one of only two university-based medical systems in the Los Angeles area. Keck Medicine combines academic excellence, world-class research and state-of-the-art facilities to provide highly specialized care for some of the most acute patients in the country.
Our internationally renowned physicians and scientists provide world-class patient care at Keck Hospital of USC, USC Norris Cancer Hospital, USC Verdugo Hills Hospital, USC Arcadia Hospital and more than 100 unique clinics in Los Angeles, Orange, Kern, Tulare and Ventura counties.
Keck Medical Center of USC, which includes Keck Hospital and USC Norris Cancer Hospital, is among the top 50 hospitals in the country in eight specialties, as well as the top three hospitals in metro Los Angeles and top 10 hospitals in California, according to U.S. News & World Report's 2022-23 Best Hospitals rankings.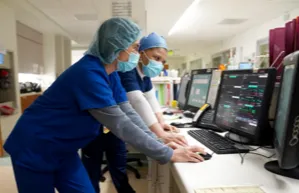 RN Case Manager - Engemann Student Health - Full Time 8 Hour Days (Non-Exempt) (Non-Union)
Apply
Keck Medicine of USC
Hospital
Los Angeles, California
In collaboration with the interdisciplinary team, the RN Care Manager provides care coordination services evaluating options and services required to meet an individual's health care needs to promote quality outcomes.  Serves as a consultant to members of the health care team in the management of specific patient populations.  The RN Care Manager role integrates the functions of complex case management, utilization management, quality management, discharge planning assessment, and coordination of counseling, primary, and specialty care services, including transfers to an alternative level of care.
As more complex medical treatment options emerge the RN Care Manager will look to eliminate gaps in the care provided, as well as needlessly duplicated treatment, all while ensuring quality and coordinated patient care. The RN Care Manager will leverage their clinical and social work experience to bring an understanding of the clinical process of assessment, planning, implementation, and evaluation to the process of case management.
Some of the major duties of an ambulatory care management nurse include:
Manage assigned caseloads of patients with Eating Disorder located at USC Student Health within Keck School of Medicine. Assesses patient's needs, develops, implements and reviews progress of service plans, and works with other community resources in meeting/achieving patients service needs. Coordinating and managing depression screening in medical services at USC Student Health.  Works with the primary care providers and behavioral health consultant (BHC) to ensure adequate follow-up for students that screen positive for depression in the primary care setting.  Educates patients regarding depression, monitors depressive symptoms and response to treatment using a validated instrument, and works closely with the primary care provider and BHC to revise the treatment plan when students are not improving and/or are unable to access appropriate follow-up care. Provides face-to-face meetings with patient and/or relevant staff, on a pre-determined frequency, reviews progress toward meeting service goals and updates or modifies the service plan as appropriate to ensure that the goals and objectives are being achieved. Provides on-going support and/or case management in accordance with the issues, needs and treatment strategies identified within the service plan in order to assist the students to achieve the stated goals and objectives. Participates in regular interdisciplinary treatment team meetings Accepts assigned cases following diagnostic intake by a licensed provider. Completes case management assessment on all assigned students. Develops appropriate treatment/service plans, including discharge plans. Develops effective rapport with students. Documents all service contacts on a timely basis including face-to-face interviews, collateral and networking contacts, correspondence and maintains the case records in accordance with agency and regulatory standards and requirements. Maintains close communication with the medical and clinical staff for input regarding medication compliance, side effects of medication, and medication changes Administers a validated instrumented for monitoring depression (i.e. PHQ-9 or similar) Monitors patients for changes in severity of depressive symptoms , co-morbid issues or diagnoses, medication side effects. Encourages adherence to treatment plan. Maintain appropriate professional boundaries with current students, family members, referrals sources and vendors. Ability to take medical vitals (weight, BP, etc) as needed. Additional duties and responsibilities as assigned. Documenting patients' case management plans and on-going activities Identifying patients 'insurance coverage or other sources of payment for services Identifying and addressing patient risk factors and/or obstacles to care Communicating the care preferences of patients, serving as their advocate, and verifying that interventions meet the patient's needs and treatment goals. Developing a patient-focused case management plan Educating the patient/family/caregiver about the case management process and evaluating their understanding of the process.
The hourly rate range for this position is $46.00 - $76.07. When extending an offer of employment, the University of Southern California considers factors such as (but not limited to) the scope and responsibilities of the position, the candidate's work experience, education/training, key skills, internal peer equity, federal, state, and local laws, contractual stipulations, grant funding, as well as external market and organizational considerations.
Minimum Education: • Graduate of an accredited school of registered nursing. • BSN preferred. Minimum Experience/Knowledge: • Five years+ clinical experience with at least two years+ ambulatory case management or utilization review experience within the last three years. • Prefer of two (2) years+ experience in an HMO/IPA/Managed care setting is preferred and recommended. • Ability to work independently with minimal supervision, exercising judgment and initiative. • Ability to manage multiple tasks with effective prioritization. • Process oriented. Good computer skills. • Knowledge of CM standards, UM standards, clinical standards of care, NCQA requirements, CMS guidelines, Milliman guidelines, InterQual guidelines, and Medicaid/Medicare contracts and benefit systems is preferred. Required License/Certification: • Valid California Registered Nurse license. • BCLS Required • CM and/or UM training and/or certification. • Fire and Safety Certification. If no card upon hire, one must be obtained within 30 days of hire, and maintained by renewal before expiration date.
REQ20116545 Posted Date: 12/21/2022
Apply