Keck Medicine of USC
Keck Medicine of USC is one of only two university-based medical systems in the Los Angeles area. Its internationally renowned physicians and scientists provide world-class patient care at Keck Hospital of USC, USC Norris Cancer Hospital, USC Verdugo Hills Hospital and more than 80 outpatient clinics in Los Angeles, Orange, Kern, Tulare and Ventura counties.
Keck Medical Center was ranked No. 16 on U.S. News & World Report's 2019-20 Best Hospital Honor Roll and among the top 3 hospitals in Los Angeles and top 5 in California. The hospital also ranked in the top 4 in urology (tie); top 10 in geriatrics; top 15 in ophthalmology, cardiology & heart surgery, gastroenterology & GI surgery and nephrology; top 20 in neurology & neurosurgery; top 25 in cancer; and top 35 in pulmonology & lung surgery.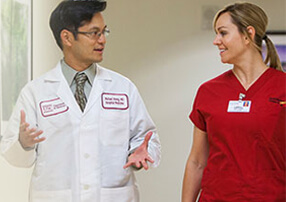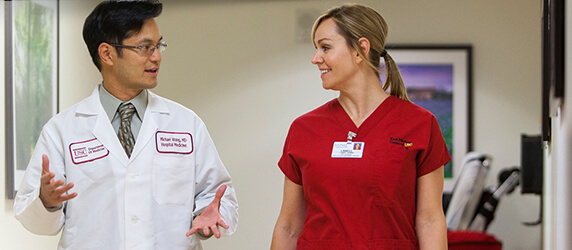 RN Clinical - Ambulatory Float RN - Full Time 8 Hour Days (Non-Exempt) (Non-Union)
Apply
Keck Medicine of USC
Hospital
Los Angeles, California
Ambulatory Nurse is a practicing registered nurse who provides virtual care to established patients via the telephone or computer utilizing the nursing process, input from physicians, and organizationally approved tele-nursing guidelines and protocols.Position functions include: e-prescription renewal, level-of-care triage, provision of illness, injury and self-care intervention, advice and consultation to patients,within a contact center environment. The role requires practitioners to identify, estimate, differentiate or rule out non-urgent/urgent, non-acute/acute, emergent, life-threatening symptoms in order to provide safe and timely disposition of symptoms presented by patients via a contact center environment.  The Nurse will navigate and perform registration, scheduling and other tasks in electronic health record systems, web portal and call management system while interacting with patients and/or family members in a telephony- and web-based environment.
Must be willing to travel throughout the Keck Medicine of USC Community (on campus, satellite practices) to cover practice integrations, vacations, illnesses, holidays, and leave of absences. Hours may vary depending on assignments. 
Performs other duties as assigned.
The hourly rate range for this position is $46.00 - $76.07. When extending an offer of employment, the University of Southern California considers factors such as (but not limited to) the scope and responsibilities of the position, the candidate's work experience, education/training, key skills, internal peer equity, federal, state, and local laws, contractual stipulations, grant funding, as well as external market and organizational considerations.
Minimum Education: • Bachelor's Degree in Nursing required • Master's Degree in Nursing, or in progress, strongly preferred * Master's Degree in Nursing may be in lieu-of Bachelor's Degree in Nursing Minimum Experience/Knowledge: • 2 years practical nursing experience required • 2-5 years practical nursing experience preferred • ER experience preferred • Demonstrated knowledge and use of physical-, psycho-, social-assessment skills within the scope-of-practice defined by the Board of Registered Nursing and in compliance of state laws and medical nursing standards of care. • Demonstrated high-level skills in problem solving, time management and prioritizing work where the nature of patient inquiries in the contact center environment is unpredictable. • Demonstrated excellence in interpersonal, oral, verbal and written communications. • Professional knowledge of clinical nursing protocols with specific emphasis of disease processes, emergencies, health sciences and pharmacology. Required License/Certification: • Current RN license issued by State of California Board of Registered Nurses required • BLS certification required • ACLS certification preferred • ER certification preferred • Nurse triage certification preferred • Fire and Safety Certification. If no card upon hire, one must be obtained within 30 days of hire, and maintained by renewal before expiration date.
REQ20117738 Posted Date: 12/20/2022
Apply