Keck Medicine of USC
Keck Medicine of USC is one of only two university-based medical systems in the Los Angeles area. Its internationally renowned physicians and scientists provide world-class patient care at Keck Hospital of USC, USC Norris Cancer Hospital, USC Verdugo Hills Hospital and more than 80 outpatient clinics in Los Angeles, Orange, Kern, Tulare and Ventura counties.
Keck Medical Center was ranked No. 16 on U.S. News & World Report's 2019-20 Best Hospital Honor Roll and among the top 3 hospitals in Los Angeles and top 5 in California. The hospital also ranked in the top 4 in urology (tie); top 10 in geriatrics; top 15 in ophthalmology, cardiology & heart surgery, gastroenterology & GI surgery and nephrology; top 20 in neurology & neurosurgery; top 25 in cancer; and top 35 in pulmonology & lung surgery.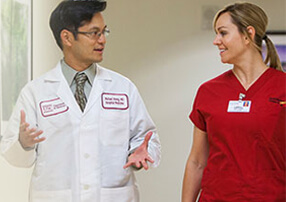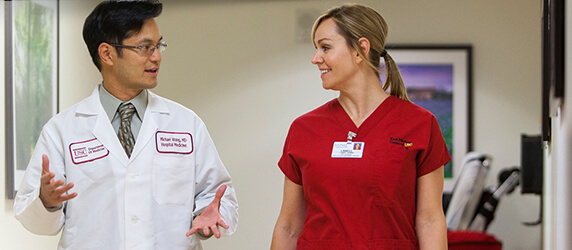 RN Clinical (Congenital Heart Disease) - Cardiology Clinic - Full Time 8 Hour Days (Non-Exempt) (Union)
Apply
Keck Medicine of USC
Hospital
Los Angeles, California
Minimum Education:
Graduate of an accredited RN Program. (BSN)
Minimum Experience/Knowledge:
Minimum one years' Cardiology in the outpatient setting required.
* In lieu of outpatient cardiology experience will require minimum one year acute care experience in Cardiology/Telemetry Unit
One year acute care experience in Adult Congenital Heart Disease immediately prior to application preferred
Demonstration of excellent organizational skills as well as interpersonal skills
Experience in data management
Required License/Certification:
Valid California Registered Nursing license required.
Advanced certification recognized by the ANCC included not limited to CVRN preferred
BLS for Healthcare Provider from American Heart Association required.
ACLS for Healthcare Provider from American Heart Association required.
Fire and Safety Certification.  If no card upon hire, one must be obtained within 30 days of hire, and maintained by renewal before expiration date.(Required within LA City Only) 
The hourly rate range for this position is $47.31 - $88.00. When extending an offer of employment, the University of Southern California considers factors such as (but not limited to) the scope and responsibilities of the position, the candidate's work experience, education/training, key skills, internal peer equity, federal, state, and local laws, contractual stipulations, grant funding, as well as external market and organizational considerations.
The Adult Congenital Heart Disease (ACHD) RN works directly with the Cardiology Physicians and Nurse Practitioners. ACHD RN serves as a personal contact for physicians, staff, patients and outside departments in order to address problems, issues or concerns that require attention. RN will educate patients on importance of medication compliance, routine periodic lab work and preventative measures. Will also follow up to ensure cardiology patients are up-to-date on testing, preventative measures, and follow up accordingly. Will work with coordinating access to care with insurance companies including- diagnostic studies, labs, referrals and hospital admissions. The RN will triage patient phone calls and recognize and report new and urgent signs and symptoms. RN will also triage patients that present to clinic with symptoms without an appointment. RN will work to expedite new referrals including transitioning patients from pediatric to adult cardiology care at Keck Hospital of USC. ACHD RN will maintain database of all ACHD patients. Ensures compliance with policy to maintain HIPAA, safety and infection control standards. Complex, independent problem solving when overseeing clinical staff which may overlap into multiple sub-specialties within Cardiology. (General Cardiology, Interventional, Electrophysiology, and Heart Failure) Hybrid opportunities exist per operational needs. Other duties as assigned.
REQ20116112 Posted Date: 12/26/2022
Apply