Keck Medicine of USC
Keck Medicine of USC is the University of Southern California's medical enterprise, one of only two university-based medical systems in the Los Angeles area. Keck Medicine combines academic excellence, world-class research and state-of-the-art facilities to provide highly specialized care for some of the most acute patients in the country.
Our internationally renowned physicians and scientists provide world-class patient care at Keck Hospital of USC, USC Norris Cancer Hospital, USC Verdugo Hills Hospital, USC Arcadia Hospital and more than 100 unique clinics in Los Angeles, Orange, Kern, Tulare and Ventura counties.
Keck Medical Center of USC, which includes Keck Hospital and USC Norris Cancer Hospital, is among the top 50 hospitals in the country in eight specialties, as well as the top three hospitals in metro Los Angeles and top 10 hospitals in California, according to U.S. News & World Report's 2022-23 Best Hospitals rankings.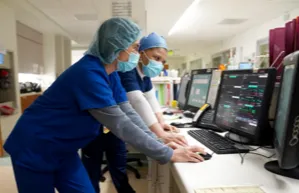 RN Clinical IV - Spine Center - Full Time 8 Hour Days (Exempt) (Non-Union)
Apply
Keck Medicine of USC
Hospital
Los Angeles, California
Coordination of the general service area, including data collection, chart review, analysis and trending, education of clinical staff, and to serve as a resource for all departments. May be required to provide direct patient care within the scope of RN licensure. Incumbent is responsible for managing the day-to-day clinical operations of the service program area.
Essential Duties:
Quality of Patient Care - Identifies, evaluates, and revises standards of care consistent with performance improvement findings, changes in policy or procedure, changes in national, local, and state standards. Demonstrates the clinical expertise necessary to assess each patient's individual needs and to plan and implement appropriate patient care interventions
Planning and Organization - Daily clinical coordination and operations of the Program. Coordinates efforts of other allied health services involved in the care of the patient. Participates in the development and implementation of hospital policies and procedures. Demonstrates skill in efficient time management. Development and implementation of clinical pathways.
Communication/Leadership Skills - Ability to communicate effectively with co-workers, physicians, administration and others in relaying information in a timely manner. Demonstrates an ability to identify and solve problems, uses sound judgment to reach quality decisions. Educates, coaches, and supports professional staff as necessary to resolve discrepancies between employee performance and patient and Program needs.
Computer Skills - Type and proof various documents (e.g., correspondence, reports, charts, minutes of meetings, hospital policies, etc.). Create spreadsheets and tables, utilizing functions (formulas) and manipulating the data to retrieve desired information. Maintain computer records and files as needed. Generate presentations in various formats. Develop and maintain databases.
Customer Service - Projects University Hospital values to all customer groups. Encourages feedback from patients, families, and other care providers regarding satisfaction with the Program and University Hospital initiatives.
Fiscal Resource Management - Participates in preparation of operational and capital equipment budgets. Manages labor and controllable expenses within allocated budget.
Community Resource/Market Conditions - Maintain relationship with community referral organizations as necessary. Assist patients as necessary with referrals to appropriate community services. Maintains awareness of all major competitors, current market conditions, financial positions and operating strategies to proactively anticipate, change and implement new programs, services or processes to ensure the success of the Program. Provide program analysis to Administration to aid in anticipating change and formulating successful strategies to meet the changing healthcare environment.
Performs other related duties as assigned

Required Qualifications:
Bachelor's degree Nursing Degree in Nursing (BSN) *Grandfathered from BSN if hired prior to 12/2019
2 years' Experience in an acute care setting.
Experience in the care and coordination of care for surgical patients.
Must have excellent communication skills, including the ability to speak, read and write English proficiently.
Knowledge of medical procedures and conditions and ability to understand, follow and successfully perform duties, including whole blood collection, and apheresis procedures, in accordance with administrative and clinical policies, regulations and procedures.

Preferred Qualifications:
Master's degree MSN, MBA, MHA, or degree in a related field. *Demonstrated expertise and work experience commensurate with education requirements may be accepted in lieu of Master's Degree.
Administrative experience at the Program Manager level.
Experience with TJC accreditation and DHS regulations.
Case management principles and operations experience.

Required Licenses/Certifications:
Registered Nurse - RN (CA Board of Registered Nursing)
Basic Life Support (BLS) Healthcare Provider from American Heart Association
Fire Life Safety Training (LA City) If no card upon hire, one must be obtained within 30 days of hire and maintained by renewal before expiration date. (Required within LA City only)
The annual base salary range for this position is $95,680.00 - $158,230.00. When extending an offer of employment, the University of Southern California considers factors such as (but not limited to) the scope and responsibilities of the position, the candidate's work experience, education/training, key skills, internal peer equity, federal, state, and local laws, contractual stipulations, grant funding, as well as external market and organizational considerations.
REQ20135231 Posted Date: 11/02/2023
Apply