Keck Medicine of USC
Keck Medicine of USC is the University of Southern California's medical enterprise, one of only two university-based medical systems in the Los Angeles area. Keck Medicine combines academic excellence, world-class research and state-of-the-art facilities to provide highly specialized care for some of the most acute patients in the country.
Our internationally renowned physicians and scientists provide world-class patient care at Keck Hospital of USC, USC Norris Cancer Hospital, USC Verdugo Hills Hospital, USC Arcadia Hospital and more than 100 unique clinics in Los Angeles, Orange, Kern, Tulare and Ventura counties.
Keck Medical Center of USC, which includes Keck Hospital and USC Norris Cancer Hospital, is among the top 50 hospitals in the country in eight specialties, as well as the top three hospitals in metro Los Angeles and top 10 hospitals in California, according to U.S. News & World Report's 2022-23 Best Hospitals rankings.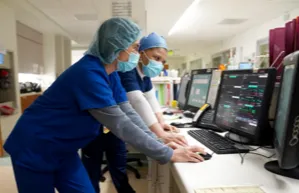 RN Coordinator (Thoracic and Cardiac) - Surgery - Full Time 10 Hour Days (Non-Exempt) (Non-Union)
Apply
Keck Medicine of USC
Hospital
Los Angeles, California
The OR Cardiac, Thoracic, Vascular Surgery is a Registered Nurse with recognized leadership abilities and sound clinical skills who will actively assist the Director of Perioperative Services and the OR Charge Nurse in coordinating the day-to-day activities of the operating room with specific focus on the Neurosurgical Service.  The Coordinator takes a leading role in coordinating assignments, inservicing and orienting new staff, performance improvement, job performance evaluations, staffing, scheduling, and working with physicians for improved outcomes. Assists Director with annual budget. Precepts new employees.
The hourly rate range for this position is $46.00 - $76.07. When extending an offer of employment, the University of Southern California considers factors such as (but not limited to) the scope and responsibilities of the position, the candidate's work experience, education/training, key skills, internal peer equity, federal, state, and local laws, contractual stipulations, grant funding, as well as external market and organizational considerations.
Minimum Education: • BSN strongly required. MSN Preferred. CNOR referred Minimum Experience/Knowledge: • Minimum 3 years' experience as OR nurse required. • 5 years' experience preferred. • Previous Service lead and scrubbing experience preferred. Required License/Certification: • Valid California Registered Nursing license. • BLS for Healthcare Provider from American Heart Association. • Fire and Safety Certification. If no card upon hire, one must be obtained within 30 days of hire, and maintained by renewal before expiration date.
REQ20117481 Posted Date: 12/21/2022
Apply