Let's change the world together!
USC is a leading private research university located in Los Angeles – a global center for arts, technology and international business. As the city's largest private employer, responsible for more than $8 billion annually in economic activity in the region, we offer the opportunity to work in a dynamic and diverse environment, in careers that span a broad spectrum of talents and skills across a variety of academic schools and units. As a USC employee, you will enjoy excellent benefits and perks, and you will be a member of the Trojan Family - the faculty, staff, students and alumni who make USC a great place to work. Think you've got what it takes to join us? We invite you to search our open positions and apply!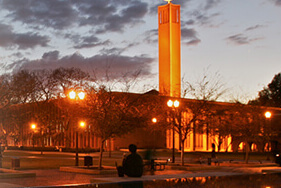 Clinical Research Program Manager
Apply
Keck School of Medicine
San Diego, California
The USC Keck School of Medicine - Alzheimer Therapeutic Research Institute (ATRI), located in San Diego, California is an academic institute comprised of an expert panel of scientific collaborators committed to advancing the development of new treatments for Alzheimer's Disease (AD) through innovative clinical trials.  
Incumbent will assist the Medical Director with providing oversight to the progress of clinical trials at study sites, and ensure that they are conducted, recorded, and reported in accordance with the protocol, Standard Operating Procedures (SOPs), Good Clinical Practice (GCP), and the applicable regulatory requirements(s). Duties will include but are not limited to: 
Directs the Clinical Monitor Managers who supervise the clinical monitoring team for sponsor and investigator-initiated clinical research

Responsible for providing leadership to the Clinical Monitoring team including developing and advancing processes for monitor metrics reviews, site assignments, daily operations, and data query placements, and closures

Ensures site qualifications, initiations, monitoring, and study closeout visits are conducted in accordance with relevant regulatory regulations.

Responsible for managing ongoing documentation, regulatory, and policy changes and updates for clinical monitoring procedures

Serves as primary communications liaison for clinical monitoring team with other ATRI units, study teams and sponsors

Responsible for ensuring Clinical Monitor Managers develop and administer continuous clinical trial education, creating instructional and coaching plans to appropriate staff qualifications and training

Provides oversight of Clinical Monitor Managers in their recruitment, screening, interviewing, hiring, and supervision of clinical monitors

Provides guidance to Clinical Monitor Manager processes surrounding clinical monitor training and ongoing clinical trial education for monitors

Responsible for conducting performance evaluations, setting goals, and providing counsel when appropriate of Clinical Monitor Managers and Clinical Monitors when needed

Accountable for oversight of collecting and analyzing delivery, productivity, and performance metrics of Clinical Monitors and Clinical Monitor Managers
Education/Experience: The ideal candidate will offer:
At minimum bachelor's degree or equivalent in medical-related field or life science. Post-graduate (medical) degree preferred.
An understanding of Alzheimer's disease and/or the drug development process
Experience in interacting with cross functional study team members
Knowledge, Skills, and Abilities:
Must have a thorough knowledge of clinical research concepts, practices, and FDA regulations and ICH Guidelines regarding drug development phases, clinical research, and medical writing standards; demonstrated ability to interpret and apply these guidelines to document writing
Ability to work independently with minimal supervision, multi-task, and work effectively under pressure; adapt to change as needed; possess excellent project management skills; attentive to details
Ability to communicate with teams to set realistic timeline expectations; demonstrated ability to deliver within agreed internal and regulatory timelines; monitor and communicate progress against milestones; escalate complex issues appropriately.
Excellent interpersonal, active listening, and influencing skills; establishes and maintains professional and productive working relationships with team members
Ability to utilize a balanced approach to problems, using flexibility and persistence as appropriate
Read, write, and speak fluent English, excellent verbal, and written communications skills
Location: San Diego, CA
"The annual base salary range for this position is $110,273.33 - $157,964.97. When extending an offer of employment, the University of Southern California considers factors such as (but not limited to) the scope and responsibilities of the position, the candidate's work experience, education/training, key skills, internal peer equity, federal, state, and local laws, contractual stipulations, grant funding, as well as external market and organizational considerations."
Minimum Education: Bachelor's degree; Combined experience/education as substitute for minimum education   Minimum Experience: 5 years; Combined experience/education as substitute for minimum experience Minimum Field of Expertise: Related experience with specialized research and/or programs (e.g., counseling, teaching). Ability to analyze and evaluate data, and present findings. Excellent interpersonal and written and oral communication skills, able to problem solve and lead conflict resolutions. Ability to interpret and apply policies/analyses/trends.  
REQ20126284 Posted Date: 01/23/2023 - Thru date - 2023-03-01
Apply