USC
Join Our Team!

Join our mission for the development of human beings and society as a whole through the cultivation and enrichment of the human mind and spirit.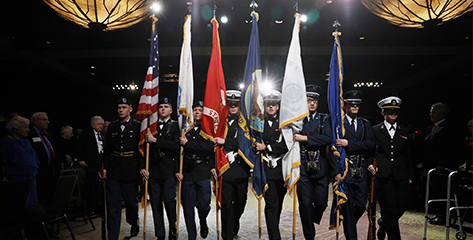 For over 100 years, USC and the U.S. military have stood side by side. The mission of our military and veteran initiatives is to serve those who serve. We support our employee-veterans as well as our student-veterans, ROTC students and families so they can succeed and lead in their chosen fields. USC has open positions from entry level to experienced where you can leverage your military experience, and we also offer resources to support your job search and career advancement. Explore careers today or visit our military and veterans initiatives site. Bring your leadership to our workplace today!

Already working for USC and looking to refer a veteran? Click HERE to find out how!
Staff jobs for current employees
Please visit the Career Worklet on the Workday Homepage and select "Find Jobs" to view USC Jobs.
(If you're not currently a USC employee, click here to view USC jobs)
A message from USC Talent Acquisition: Please be aware that USC employment offers are only made in writing by authorized university officials, and only after an applicant has completed the online application. Merely sending an email does not constitute an application, and any offer of employment received before an applicant completes the online application is not authorized or valid. If you suspect you are being contacted by an unauthorized recruiter, please email your concerns to uschr@usc.edu.